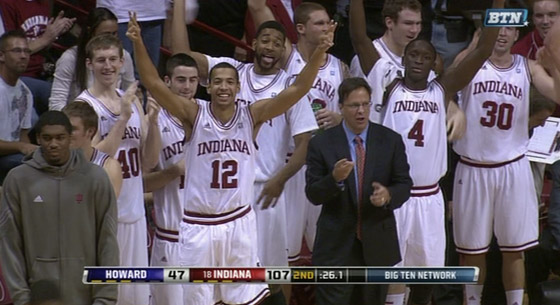 Thoughts on a 107-50 win over the Bison:
Jordan Hulls hits a flailing left-handed three as the shot clock expires, and it's just that kind of the night for the Hoosiers — one where eveything seemed to be going in the bucket.
Consider these numbers from the first half: Indiana scored 1.53 points per possession, registered  an effective field goal percentage of 85.7 and assisted on 14 of its 18 buckets, nine of which were threes (9-of-14). Things slowed a bit in the second half. But for the game, Indiana still put up some silly numbers: a season-high eFG% of 77.9 (75.0 percent on twos, 55.0 percent on threes), a free throw rate of 71.2 and 27 assists on 35 field goals. It also scored 1.45 points per possession for the contest, its highest mark in the Tom Crean era, according to Big Ten Geeks.
By the time Indiana got up 50ish midway through the second half, Crean started using the game as a glorified scrimmage, as the Hoosiers worked on a seldom-used 1-3-1 zone with most of his starters still on the court. As the final minutes waned, Indiana was even getting scoring from deep in the bench. Raphael Smith hit two free throws; Kory Barnett made a three. And despite going over the century mark, this was an incredibly balanced attack, as six Hoosiers scored 10 or more points (Hulls with 16, Verdell Jones, Cody Zeller and Will Sheehey with 12, Christian Watford and Victor Oladipo with 10).
Indiana was a heavy favorite in this one from the onset. (The line was 28.5 points.) Still, a performance this dominant and efficient speaks to how well this team continues to play together on offense, and it's yet another strong step on their path up this season's mountain.
OTHER THOUGHTS
+ A blowout like this allowed Derek Elston some decent playing time (12 minutes) and he had an efficient offensive performance on some high-percentage looks around the rim (3-of-4 from the field, 2-of-4 from the line for eight points). There will come a time when the Hoosiers will need Elston in Big Ten season, so it's good to see he's still attacking the basket after minor back problems during the week leading up the the Kentucky game.
+ Should Remy Abell be getting more minutes? There's a case to be made for it, even if he's got veterans in front of him and still looks like a player that needs a bit more experience at the collegiate level at times. Tonight, he scored a career-high nine points (2-of-2 from the field including a three, 4-of-4 from the line) and dished out five assists in 14 minutes. Like Elston, there may come a time in the Big Ten season where fouls could be an issue in the backcourt and Crean may have to rely upon Abell to play more minutes, so it's important for him to see the floor for an extended stretch in a game like this.
Filed to: Howard Bison