Film Session: Watford's final minutes
Indiana rallied back from a seven-point deficit in the final eight minutes of Wednesday's win over N.C. Sate.
Christian Watford played a large role for the Hoosier during that final stretch. There was a defensive lapse or two, and four of his seven points came at the line off of what some considered two questionable foul calls. (Mark Gottfried is one of these people.)
Still, the Alabama native rose to the occasion by hitting all four of those free throw attempts, and he also snagged four crucial defensive rebounds to keep a good offensive rebounding team in the Wolfpack at bay.
A look at one such rebound before we roll the tape on Watford's highlights in winning time.
As C.J. Williams launches a three, Watford is out near the free-throw line and doesn't have inside position on DeShawn Painter: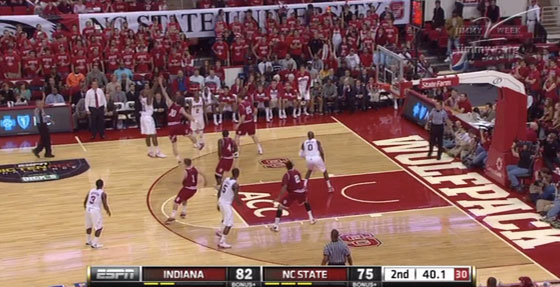 Watford approaches the basket and gets next to Painter: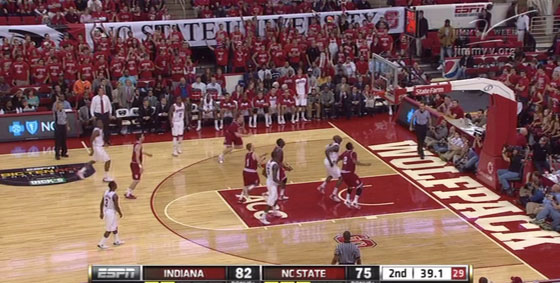 Watford simply out jumps and out muscles Painter for the board: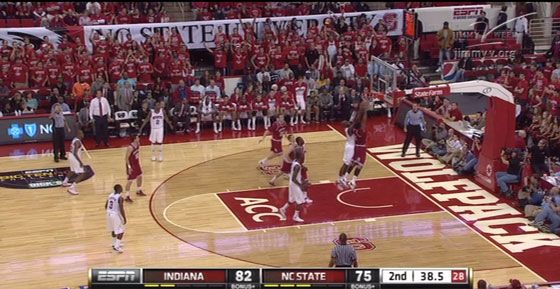 As Greg noted yesterday, Watford talked about bringing more toughness in the second half and challenging himself to close out the game. This rebound is an example of that.
Filed to: Christian Watford, North Carolina State Wolfpack