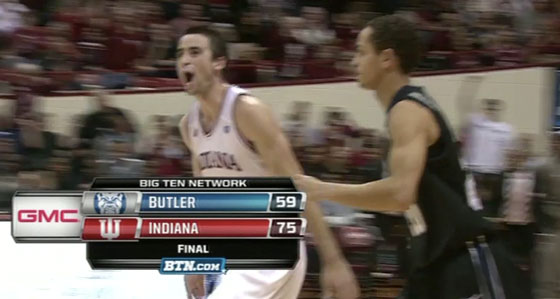 Thoughts on a 75-59 win over the Bulldogs:
This one meant something.
From the tip, all these Indiana boys fighting for bragging rights got after it. They scraped and clawed and sacrificed their bodies. And well: They turned the ball over and fouled and shot poorly at times, too. Some called it ugly. Others called it a thing of beauty.
Whatever your frame of reference, this one did not always look like a double-digit victory for the Hoosiers. Butler was far and away the most fundamentally sound defensive team Indiana faced this season. And even when the Hoosiers were getting good looks, they failed to knock them down.
Maybe it was nerves, the known symbolic importance of beating the state's new darling and reclaiming some pride for IU.
The Hoosiers only hit 20 percent of their shots from inside the arc in the first half, but were able to go into the locker room up three points thanks to some hot shooting from 3-point distance (5-of-10).
At times, it felt like the Hoosiers were about to break through. But Butler responded on each occasion, until the 10:13 mark in the second half.
Tom Pritchard — who was effective on the defensive end in nine minutes of action — dove to the floor for a steal. Jordan Hulls pushed it up the court and kicked it to Christian Watford. (The Alabama native forced a bit too much action at times tonight in a poor shooting effort — 2-of-10). He found Hulls curling around him to the hoop for a finger-roll lay-in.
Defense into offense once again for these Hoosiers.
Speaking of defense, Indiana's intensity on that end was key tonight. It forced Butler — a team known for taking care of the ball — to cough it up 21 times. The Hoosiers recorded 14 steals. They held Butler to just 38.2 percent from the floor and 27.8 percent from 3-point range.
There were other factors, too. Indiana's free-throw rate (76.6) helped, as they hit 29-of-36 for the evening. Will Sheehey continues to take his game to the next level, recording a career-high 21 points. Cody Zeller was steady with 16 and eight. (Though, he showed some frustration, was outmuscled at times and even tossed up an air ball.)
Through five bouts, the Hoosiers made it look so easy. Tonight, it wasn't always so. But this team continues to show confidence, togetherness and a sense of purpose.
On this night inside Assembly Hall, the statement was made loud and clear: Indiana's on the rise.
THE WEEK AHEAD
This dogfight was a solid training session for the Hoosiers before they take on North Carolina State on Wednesday night in Raleigh, North Carolina — a game which appears to be shaping up as Indiana's toughest test of the season to date.
A week from today they'll take on Stetson at home.
But for now, they remain 6-0 — all victories coming by 15 points or more.
Filed to: Butler Bulldogs