The Minute After: Gardner-Webb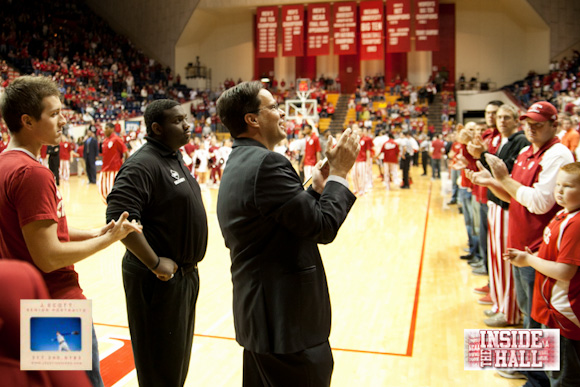 Musings on a 73-49 win over the Bulldogs:
For the first 25 minutes of this one, Indiana struggled with energy.
But Victor Oladipo, as he was born to do, made sure it would not last.
A steal by the sophomore and subsequent assist to Cody Zeller just over five minutes into the second half ignited the Assembly Hall faithful. From there, the rout was on.
The Hoosiers picked up the tempo. The offense started firing on all cylinders with stronger ball movement. Will Sheehey, IU's other hype man, hit a jumper at the 9:21 mark — his tenth straight point — to put the Hoosiers up 30.
Game. Set. Match.
REBOUNDING
Tom Crean reportedly challenged his team to get after it on the boards tonight. That challenge was met with success. The Hoosiers were strong on both the offensive (38.7 offensive rebounding percentage) and defensive (84.8 defensive rebounding percentage) boards this evening, the former of which led to 14 second-chance points. The Hoosiers also had 40 points in the paint, good for more than half of its scoring. They also converted Gardner-Webb's 19 turnovers into 26 points. Scoring in this fashion helped the Hoosiers tonight, who after shooting nearly 50 percent on threes through four games, went only 3-of-18 from beyond the arc. They also had a poor night on the line, hitting only 12-of-23.
DEREK DOES IT AGAIN
After the Savannah State tilt, I noted Elston might be better served stepping behind the three-point line instead of shooting long twos. Tonight, Elston showed off another facet of his offensive game instead; he had several strong takes to the rim on his way to 10 points and also muscled in for nine boards (three offensive).
This all came in just 15 minutes of play.
I thought IU's Assistant Athletic Director for Broadcast Services Jeremy Gray put the Tipton native's current play nicely via the Tweet Machine: "Elston's confidence is growing game by game. He's always been skilled. Now he looks comfortable and purposeful."
TIME FOR A TEST
You wonder if part of tonight's sluggish start was this team not quite getting up for Gardner-Webb, probably the easiest W so far this season on paper.
But as I noted last time around — and as we all know by now — the tests will come in the coming weeks against the likes of Butler, North Carolina State, Notre Dame and Kentucky.
But until then, bask in this team's 5-0 start. All coming by 20 points or more — which is a program first.
Filed to: Gardner-Webb Bulldogs