Getting to know Jeremy Hollowell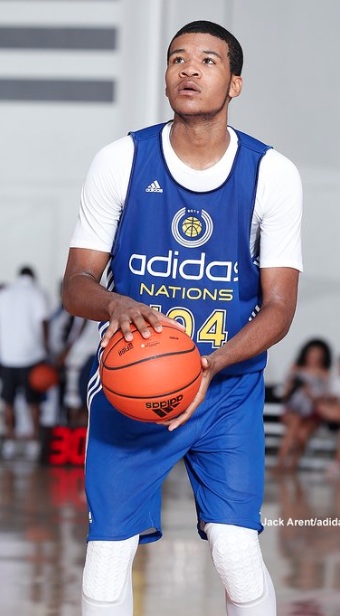 Early last month, we debuted our "getting to know" feature to learn more about Indiana's verbal commitments outside of the basketball world.
We continue with our next installment of the feature today with 2012 Lawrence Central forward Jeremy Hollowell.
What would you on a day without any basketball obligations?
"Just chill and relax with my cousins and my family. I'd play some video games and really just chill out."
What's your favorite video game to play?
"I can't be beat at NBA 2k11."
What team do you use?
"Oklahoma City, I like to use Kevin Durant."
Who are some of your favorite musical artists?
"Yung Tone, Lil' Boosie, Rick Ross, Drake, Lil' Wayne and Webbie."
What are some of your favorite TV shows?
"Everybody Hates Chris and My Wife and Kids. I watch some reality TV shows, but I really don't watch that much TV other than basketball stuff. "
What is your favorite movie ever?
"Friday."
If you couldn't play basketball, what sport or activity would you do instead?
"For a sport I would pick football, but I would want to be a rapper if I couldn't be a basketball player."
Who is the best player you've ever had to defend?
"Shabazz Muhammad. He's really active and he's always moving around on the court."
Who is the best player you've ever teamed up with?
"Ronnie Johnson."
If Jeremy Hollowell isn't the best player in the state of Indiana's 2012 class, then who is?
"Gary Harris."
If you had to form a team using yourself and four other players, who would you pick?
"Me, Kevin Durant, Blake Griffin, Derrick Rose and Kobe Bryant."
Who is someone you look up to?
"My favorite basketball player is Kevin Durant, but I also look up to Yung Tone because he's a successful rapper from the same neighborhood I grew up in. That shows you that anyone can be successful."
What is the best piece of advice someone has ever given you?
"To work hard and realize that anything is possible. Everyone had to start from somewhere and work towards their dreams. I get that from music, and my grandpa and my dad told me that. I tell myself that all the time."
What advice would you give to a high profile basketball player who is younger than you?
"I'd just tell him to work hard, stay focused, stay dedicated, keep your priorities straight and focus on reaching your goals."
Filed to: Jeremy Hollowell