Q & A: 2014 Grand Rapids guard Drake Harris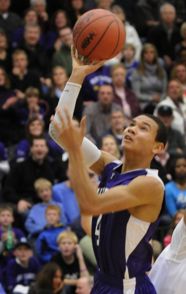 Although the 2014 class in Indiana looks very strong early, it appears that the Indiana staff will also look outside of the state when recruiting the current freshman class.
Inside the Hall caught up with 2014 Grand Rapids (MI) Christian guard Drake Harris for a quick interview. We discussed his recruitment and more in the Q & A below:
What was your freshman season at Grand Rapids Christian like?
"I learned a lot through the season and  matured a lot offensively and defensively. We made it pretty far in the tournament and I thought I led my team pretty well all season."
How would you describe your game to someone who has never watched you play?
"Definitely my offensive game is my biggest strength. I can score the ball from anywhere on the perimeter, I can take it to the whole and I have the ability to dunk. On the defensive end I can lock people down too."
What are you trying to work on and improve during the spring and summer?
"I want to increase my 3-point range and improve my shooting overall."
What are the schools that have been recruiting you so far?
"Indiana, Purdue, Michigan and Michigan State. Indiana offered me a scholarship this past summer."
What schools have you visited?
"So far I've visited all four of those schools."
What are your thoughts on the recruiting process so far?
"I'm just taking my time and having fun."
Filed to: Drake Harris