Bluiett a key piece to Park Tudor's 2A title run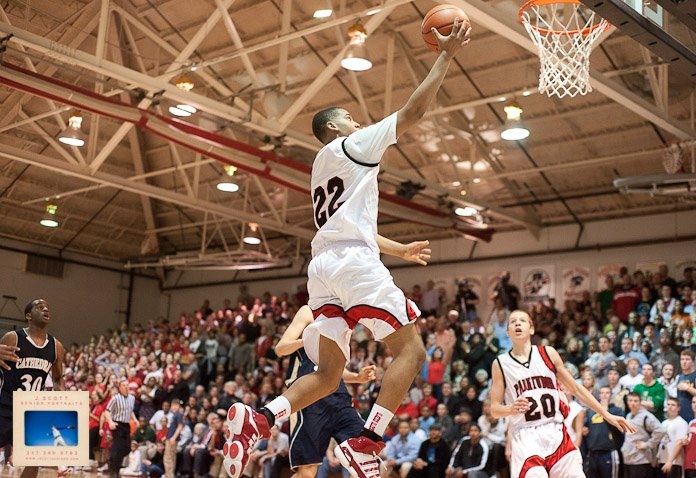 (Photo credit: Jamie Owens of J. Scott Sports)
Trevon Bluiett walked calmly with his teammates into the press room of Conseco Fieldhouse. A smile beamed from ear to ear on the face of the heralded freshman.
As the media peppered Park Tudor coach Ed Schilling and junior Yogi Ferrell with five minutes of questions following the Panthers' 2A state championship victory, Bluiett had yet to say a word.
"Trevon, keep it down over there," Schilling joked.
Bluiett smiled at his head coach and then promptly answered a question on his 21-point performance against Hammond Bishop Noll as if he'd been there many times before.
Complete poise. No hesitation. Total confidence. These are usually not words used to describe a freshman, but they seem to fit Bluiett.
As Noll focused much of its attention on stopping Ferrell, the future IU point guard looked to Bluiett and the freshman delivered.
8-of-13 from the field. 4-of-6 from the foul line. Eight rebounds. Two steals. Two blocks.
But perhaps most impressive of all, a knack for being in the right place at the right time.
"He's got a high IQ for the game," Bluiett's father Reynardo told Inside the Hall on Tuesday. "Just playing along with Yogi for a year, he reads him and his other teammates and knows tendencies pretty well. He studies the game and always seems to be a step ahead of everybody as far as knowing where to be."
It's that advanced understanding of the game, coupled with his natural ability, that led high major schools, including Indiana, to begin recruiting Bluiett before he ever played a varsity game.
His recruitment, which wasn't a big focus for the family during the high school season, will likely take off even further this spring and summer when Bluiett and IU commits Trey Lyles and James Blackmon Jr. hit the AAU circuit with Spiece Indy Heat.
The trio will play up one year and will be coached by Reynardo Bluiett beginning this weekend at the IndyBall.com Shootout in Indianapolis.
No matter the venue, the elder Bluiett's advice for his son remains the same: enjoy the experience.
"With him, I just have to keep reminding him to have fun," Reynardo Bluiett said. "He's played on all different stages in front of different crowds. As tournaments and stuff go on, championships, semifinals, he always seems to get stronger and more focused."
Trevon Bluiett Updates
– HD Video: Park Tudor's Trevon Bluiett vs. Forest Park (March 20, 2011)
– 2014 wing Trevon Bluiett attracting major attention (October 7, 2010)
Filed to: Trevon Bluiett