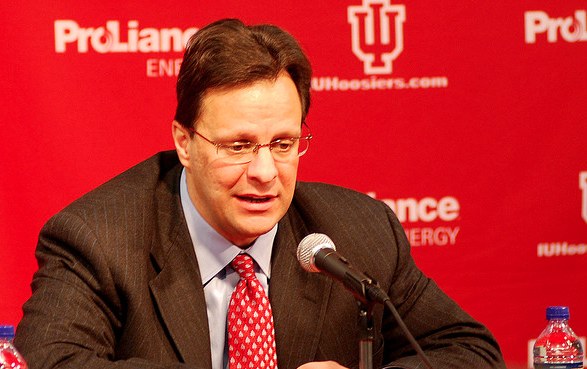 Welcome to "That's A Wrap," our attempt to make some sense of the 2010-11 season. Sit back. Relax. Grab some popcorn. Get your read on. Today: Tom Crean.

Tom Crean stood at the lectern inside the Assembly Hall press room, his most common pulpit, and tried in vain to put into words what had just come to pass.
Crean's team had just lost 70-64 at home to Northwestern, the Hoosiers' fourth in a row and third on the run against a once-conference doormat that Indiana fans had long enjoyed beating comfortably.
The third-year Indiana coach looked perplexed, lost in thought. He was without his tie, taken off during the game itself, commonly viewed as a sign of unusual frustration. A man noted for his ability to speak prolifically, on this night, appeared void of explanations.
He talked about his team's lack of accountability, lamenting that just one of his players (it turned out to be freshman Will Sheehey) actually asked to match up defensively with Michael Thompson, the Wildcats' leading scorer on the night. That lack of willingness (or desire, if you will) from his more veteran players to meet that challenge head-on had Crean practically speechless.
It might have been as flustered and defeated as Crean has ever looked in his three years in Bloomington.
*******
The 2010-11 season began full of hope.
Indiana looked deeper than it had in some time — for the first time in three years, no freshman was an automatic starter. Even with Maurice Creek looking less than 100 percent in the preseason, Guy-Marc Michel looked promising, and Indiana suddenly had the legitimate look of a Big Ten squad.
Advances in competitiveness were expected. An above-.500 season was the hope. Some sort of postseason play seemed perhaps within reach.
Three months later, here was Tom Crean, without an answer for why his team was again backsliding shortly after the best three-game stretch any of his Indiana teams had ever played.
The freshmen were forcing their way into the rotation. This was in part because of their energy and aggressiveness, and perhaps because of nagging  injuries. But it was also because those freshmen were too often the ones behaving like juniors or seniors, while too many of the sophomores and juniors failed to acquit themselves accordingly. There were points in the season when accountability, leadership and toughness — some of basketball's (and, really, life's) most lauded intangibles — appeared at all-time lows under Crean, in large part because they should have been at all-time highs.
Tom Crean's Indiana did not have a disastrous season by any stretch. There were clear high points, wins over ranked teams for the first time, wins in Big Ten rivalries for the first time and some of the most exciting basketball a Crean-coached team has produced in Bloomington. There were also moments — too many moments — when the program's poster players looked, quite frankly, as though they were regressing from previous performances, an unacceptable sight in year No. 3.
Was this all Crean's fault? Certainly not. Should he bear his fair share of the blame? Absolutely.
Part of what Crean continuously rails against, the ills he says must be exorcised from his program, simply cannot be undone with good practices and talk of different mentalities. There are habits and mentalities intrinsic to this team that have been forged in too many seasons defined not just by adversity, but by historic struggle. Two years of consistent, often heavy losses will develop within a program problems that are not simply reparable.
Perhaps it was always going to take this long. Perhaps the lofty goal of bringing Indiana basketball back to its comfortable home atop the Big Ten and at the forefront of the national basketball conscious was always going to take far longer than the common observer would have expected.
But it doesn't change the fact that it has taken longer. And the longer it has taken, the more people have begun to question not the program's direction, but its methods, and its mentality. To risk a nauseating cliche: Whether it is fair or not, that's the responsibility assumed in receiving the most desirable salary in the state of Indiana.
Things should soon change. It's absolutely relevant, in this conversation, to cite Crean's impressive recruiting work, and it's equally important to note that many of the players he's got on deck are well-versed not just in winning, but in winning together.
*******
Over the last three weeks, we've profiled each of Indiana's players, attempting to chronicle each individual journey through the last season. We've talked about offense and defense, pointing out trends both positive and negative over the course of Indiana basketball's last 32 games.
It's not fair to say the fanbase has turned against Tom Crean. Swept up in the goodwill of his hiring, the real task before him and his staff was masked in large part. Crean's decision — forced or otherwise — to undertake program-wide cleansing and the subsequent rebuilding project left too much work to be done.
But that does not change reality. When Crean and his players greet a returning campus in August, they will concurrently face a certain kind of expectation they have not experienced before: Polite demand.
The Indiana fanbase likely will not be militant, at least not at the start. But its expectations will no longer be qualified with hopefulness or optimism. They will, probably for the first time in Crean's tenure, be expectations along a baseline — expectations to be met at very least.
It is a reality Crean and his players must meet head on, one they must embrace. Next year, that process must begin. It is imperative. It is in reach. Most of all, it is time.
Filed to: Tom Crean, Will Sheehey