That's A Wrap: Guy-Marc Michel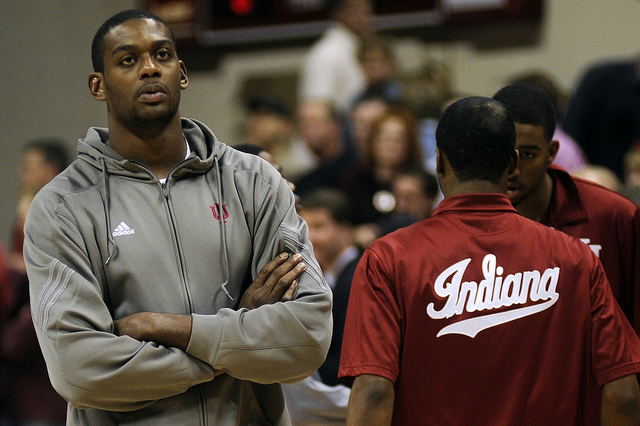 Welcome to "That's A Wrap," our attempt to make some sense of the 2010-11 season. Sit back. Relax. Grab some popcorn. Get your read on. Today: Guy-Marc Michel.

Final Stats: Did not play.
When Indiana recruited a 7-foot center from Martinique by way of North Idaho College, a fair bit of skepticism passed through the fanbase. The Hoosiers had just said goodbye to Tijan Jobe, and would soon part ways with Bawa Muniru, two project centers with impressive physiques and, in the end, relatively little impact.
But everyone around the program insisted: Guy-Marc Michel was different.
From the time he signed through the beginning of practice, players and coaches insisted Michel would be an integral part of the rotation. Tom Crean said when he talked to his players in the summer about their top-eight rotation, Michel's name always popped up.
And then we got to see Michel in action, first at Hoosier Hysteria and then at Night of the Living Red, we sort of saw what his teammates saw: A deceptively athletic, physical center who had gelled with his teammates and moved well off the ball, in addition to providing an obvious presence in the post offensively and, especially, defensively.
Taking a second look at Michel, it wasn't hard to see him bothering Ralph Sampson or Dallas Lauderdale.
And then Michel was declared ineligible. We can debate the fairness or merit of that decision until we're blue in the face, but the fact remains Michel's was a scholarship sacrificed.
It's hard not to imagine what this Indiana team might have looked like with a healthier Maurice Creek and a true center. The former might never have come to pass, but the latter nearly did.
Crean has said more than once that he considers Michel an NBA-level prospect. We certainly can't judge him on talent, but his measurables are intriguing enough. If nothing else, he would have provided a long, physical body in the post for a team that has sorely lacked that kind of presence for three years now.
Shining moment: Is it mean-spirited to give him one? Michel looked good in his team's open scrimmage at Night of the Living Red, but he obviously never saw the court.
Bottom line: Michel was supposed to provide an interior presence and a true center for a team deficient in both categories. Because of his eligibility issues, he unfortunately never could.
Filed to: Dallas Lauderdale, Guy-Marc Michel, Ralph Sampson III