Guy-Marc Michel: What we know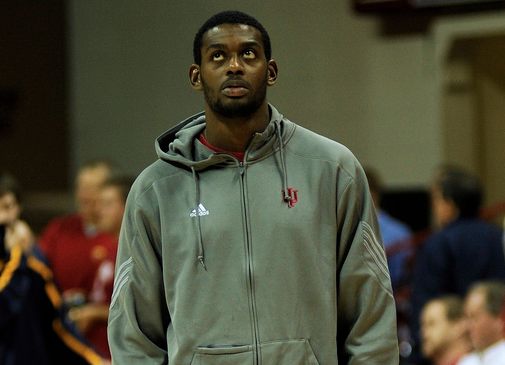 So Guy-Marc Michel is in fact ineligible, and will be for the entirety of his stay at Indiana University. Inside the Hall explains why, and delves into some background on the issue as well, with details from overseas.
Which club team did Guy-Marc Michel play with in France?
SLUC Nancy. The club, as their name suggests, is based out of Nancy and is a member of the French Pro A League.
What was Michel's status with SLUC Nancy?
Several people familiar with French basketball confirmed to Inside the Hall that Michel spent the 2007-2008 season playing under what is called a "stagiare" — roughly translated to intern or trainee — contract. He would have been eligible for compensation in the form of living expenses under the terms of that contract, (which you can view a sample "stagiare" contract here, though we'll warn you it's in French, and we had it translated) but it's clear that compensation wasn't the issue.
So what was the issue?
We got into that in a fair amount of detail in this post, but let's explain it in full detail here:
First, the timeline of events is important. In 2006, Michel enrolled in some college courses at a French university, thereby starting his five-year clock. That means that no matter what, his eligibility would have been up after this academic year.
For the 2007-08 season, Michel signed the "stagiare" contract with Nancy, and began playing as a member of what's called an "Espoirs" team, which essentially amounts to an Under-21 feeder team. According to Julie Cromer, IU senior associate athletics director for compliance, who sat down with the media Tuesday night, there was a clause in that contract that allowed Nancy to call Michel up to its full professional squad, an option they exercised for five games at the end of the 2007-08 season.
Inside the Hall tracked down summaries from those five games, which you can view here and here.
Those five games, in the eyes of the NCAA rule at that time, amounted to playing with professionals, a penalty punishable by a two-to-one suspension rule, or a 10-game suspension for the five games he played. In addition, because of the call-up, his contract essentially became a professional contract in the eyes of the NCAA, which would have merited an NCAA penalty of a year's suspension.
Given that his five-year clock will run out at the end of this academic year, there was not enough time to serve such a long suspension and still retain some eligibility.
"It's simply a matter of overlapping bylaws and the fact that he ran out of time on his five-year clock to get to his eligibility in Division One," Cromer said. "So I think while we're obviously disappointed, we are an NCAA member and will abide by the NCAA member rules."
What was Indiana's argument?
Given the rather unusual nature of the case — three NCAA rules, with two working independent of each other but sort of with a third — Indiana hoped the NCAA would view Michel's case differently. Recent rule changes have reflected a greater understanding for what Cromer called "vicariously professionalism," which essentially allows athletes to play alongside professionals and retain their amateur status, provided certain conditions, (like avoidance of compensation outside necessary living expenses) are met.
Because his case took place before the rule change, it would not have applied to Michel. But Indiana hoped that the spirit of the rule would persuade the NCAA to consider Michel's case in a different way, given his honest attempt to retain his amateur status. They did not dispute his five-year clock.
Obviously, the NCAA eventually denied both of Indiana's appeals, (there were two different bodies within the NCAA eligibility framework IU would have taken its case to once the initial ruling came down, and neither appeal was successful) and Michel was ruled ineligible.
"We appealed the penalty particularly, based again on the fact he intended to remain amateur all along and there were five games involved," Cromer said. "But at the end of the day, the reinstatement process is one that considers all of the elements and so the entire combination is the basis for their decision."
What does a typical "stagaire" contract look like?
Information obtained through Cristophe Ney, who runs the website EuropeanProspects.com, outlines the details of a "stagaire" contract for the 2006-2007 season, a year before Michel played for SLUC Nancy.
Under a "stagaire" contract, players are slotted into a points system and are compensated based on their age.
During the 2006-2007 season, a player of Michel's age would have been considered a second-year senior and would have been obliged an amount between 25 and 40 points. According to the 2006-2007 "stagaire" contract, compensation based on that points system would have been awarded monthly. The 2006-2007 "stagaire" contract also states that players called up to the Under-20 French National Team would have been eligible for a bonus.
Again, compensation was not at the root of any of Michel's problems. The issue simply lies in the fact that the move to the Pro A team triggered a change in how the NCAA viewed his contract. Coupled with the fact that he would not have time to serve the requisite penalties, Michel was deemed ineligible.
How much did Michel play for SLUC Nancy?
Game-by-game statistics for the 2007-2008 season show that Michel participated in five games (one playoff game) and played a total of 10 minutes. In total, he scored four points, collected four rebounds and committed one foul. The majority of Michel's time for SLUC Nancy was spent playing for their "Espoirs" team, an outfit similar to an under-21 feeder team. (You can view screen grabs of the game-by-game statistics here and here.)
What is Northern Idaho College saying about Michel's eligibility?
Inside the Hall contacted Northern Idaho coach Jared Phey, who offered this comment via e-mail: "Several NCAA D-1 schools recruited Guy from North Idaho and I do know that several schools researched him and nobody had any reservations about signing him. Other than that all I know is he worked hard to keep his amateur status because all along he was planning on coming to the US to play and go to school."
What do we know about how Michel came to the United States?
Michel came to North Idaho thanks to a connection through Ronny Turiaf, who played at Gonzaga and now plays in the NBA, according to NIC Athletic Director Al Williams. Williams told Inside the Hall in an e-mail that Turiaf, who is from the same Caribbean island of Martinique as Michel, had a cousin play at North Idaho, and encouraged Michel to go there.
So what's next?
Michel is ineligible to compete, obviously, but he will still be on scholarship. That scholarship will count against Indiana's 13 allowed this year, since the year has already begun. It will not count against next year's total, in what would originally have been Michel's senior year.
Michel can still use Indiana's facilities to work out, he can still work with Indiana's coaches on individual instruction and he can still utilize the department's academic support system. Whether he can still practice with the team is something Cromer said the university is still working with the NCAA to figure out.
(Photo credit: James Brosher)
Filed to: Guy-Marc Michel