The explanation behind Michel's ineligibility ruling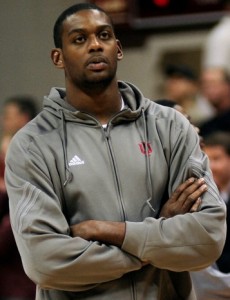 OK, here is an attempt to further smooth out the questions surrounding the Guy-Marc Michel ruling, announced tonight. We'll start with the timeline.
Indiana first found out about Michel's amateurism issues over the summer. Michel played for SLUC Nancy, a member of the French Pro A League. During his time at Nancy, he was signed on as a trainee, but he played in five games at the end of the 2007-08 season, thereby making his contract professional. (We'll go deeper into the contract in a second.)
In August, as part of its due diligence, the university also learned that Michel had enrolled in some classes at a university in France in 2006, which is technically when he would have come to the point of finishing high school. There are some equivalency issues, obviously, and Indiana was trying to figure out exactly when high school ended and what we would define as college began.
This is important, because once an athlete enrolls in what the NCAA considers college or its equivalent, their five-year clock begins, meaning they have five years to complete their allowed eligibility.
Michel's problem comes in the overlapping of these issues. The old NCAA rule used to be that any time spent playing on a team with what would be considered professionals required a one-year suspension, plus a per-game suspension tacked on at the end, depending upon how many games the player actually participated in. The ratio of that suspension would have been 2-to-1.
Under that scenario, Michel would only have one year of eligibility left, and a suspension of greater than one year to complete, essentially voiding his last year of eligibility.
Now, Indiana's case to the NCAA — who according to Julie Cromer, IU's senior associate athletics director for compliance, notified the university of its initial ruling on Oct. 15 — revolved around the application of a new rule, which lessens the blow for players who make a strong attempt to retain their eligibility while playing overseas.
Indiana was hoping the NCAA would be willing to apply the spirit of that rule change to Michel, thus leaving him a suspension short enough to be served during the current season, which must be his last, and allowing him to play. Obviously, that did not come to pass.
So what does this mean from here? Well, Michel will remain on scholarship, and he will count against Indiana's allowed 13 this year, but not next year. He is also allowed to continue using Indiana's facilities and working with coaches on individual instruction. Cromer said the university is working with the NCAA to determine whether Michel can practice with the team through the rest of the season.
Cromer was adamant that none of this case had anything to do with benefits or payment received, (Obviously that's something that jumped out to everyone after the initial announcement, because of the recent, high-profile Enes Kanter case at Kentucky). According to the release put out by the university, IU "will continue to honor Guy's scholarship as he remains on track to graduate from Indiana University."
We've got more, we're just trying to flesh everything out here and get you information quickly but also responsibly and thoroughly explained. Thanks for bearing with us.
(Photo credit: James Brosher)
Filed to: Guy-Marc Michel