NCAA rules Guy-Marc Michel ineligible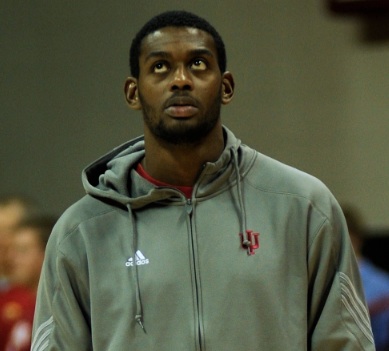 The details, per a release from IU Media Relations:
The NCAA Division I Student-Athlete Reinstatement Committee has denied Indiana University's appeal on behalf of Guy-Marc Michel. As a result, he is not eligible to participate on the men's basketball team.

According to the facts agreed to by the university and the NCAA, Guy enrolled in a French university in 2006, which started his five-year clock for Division I participation.

Guy played basketball for a French sports club from 2005 to the 2007-08 season. Although he competed the majority of the time on club teams not considered professional, he practiced and competed in five games with the club's top-level team in 2007-08. Since the top-level team is considered a professional team per NCAA guidelines, his participation triggered NCAA amateurism violations.

Guy's participation occurred before the new NCAA rule allowing prospective student-athletes to compete on teams with professionals while maintaining their amateur status.

The NCAA reinstatement committee and staff agreed Guy's eligibility should not be reinstated because he does not have enough time left in his five-year window to complete the withholding conditions normally associated with this type of amateurism violations.
The reinstatement staff and committee consider a number of factors when deciding each case. These include the nature and seriousness of the violation; the student-athlete's level of responsibility; any mitigating factors presented by the university; applicable NCAA guidelines; and any relevant case precedent.

During this process, the NCAA Eligibility Center and reinstatement staffs worked with our institution to bring this case to resolution. Even as we faced significant delays while dealing with French authorities, the NCAA staff was responsive and efficient in processing our initial case and the subsequent appeal.

As is permissible by NCAA rules, we will continue to honor Guy's scholarship as he remains on track to graduate from Indiana University.

Statement from Tom Crean regarding Guy-Marc Michel:

"We are disappointed by this decision because everyone involved in this process agrees that Guy did not intentionally do anything that would have jeopardized his ability to play here or at any of the number of institutions that also recruited him. We will regroup, assess all our options and do whatever we can for Guy, who has demonstrated to us that he deserves to be part of the IU program."
We'll have more reaction on this soon.
(Photo credit: James Brosher)
Filed to: Guy-Marc Michel