That's A Wrap: Christian Watford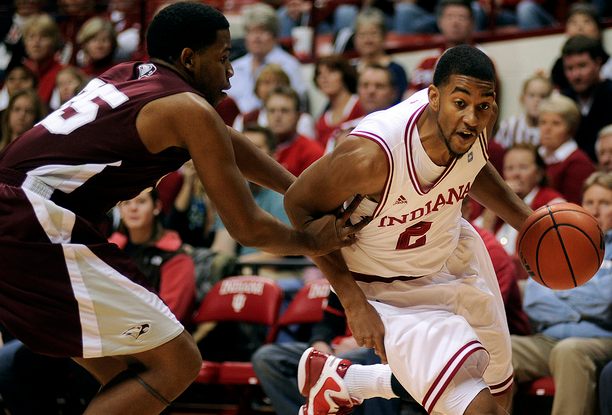 Welcome to "That's A Wrap," our attempt to make some sense of the 2010-11 season. Sit back. Relax. Grab some popcorn. Get your read on. Today: Christian Watford.
Final Stats (29 games): 16.0 ppg, 5.4 rpg, 42.2% FG, 84.3% FT, 38.1% 3PT in 29.1 minutes per game
Christian Watford took an offensive leap in his sophomore season as a Hoosier.
With the ability to score on the block, from the mid-range and beyond the arc, his varied offensive game made him one of the top scorers in the conference. Per 40 minutes, only Purdue's JaJuan Johnson (23.2) outclassed Watford (21.9) in all of the Big Ten in both the non-conference and conference slate combined. Adding to this was Watford's ability to not only get to the line, but convert. He drew 6.5 fouls per 40 minutes, which was 51st best in the nation. He hit on 84.3 percent of his attempts from the line for the entire season tying him for second in the conference behind Matt Gatens of Iowa (87.4 percent).
Yet, like most youngsters, Watford's game — as well as his approach — has room for improvement.
Watford's defense was often suspect, as he sometimes struggled to stick with his man throughout the opponents' offensive possession, leading to open, uncontested shots. Couple this with his teammates' penchant for defensive lapses as well, and it was a large reason why the Hoosiers struggled once conference season hit.
The Birmingham, Ala., native also didn't always approach each game with the same intensity and focus, which caused inconsistency in his game. An example of this came against Northwestern in Evanston on Jan. 9. Watford was lost in the fog in the first half, but looked like a different player down the stretch, an approach he carried with him for next few games.
While he was about the only reliable threat to score down low, Watford also sometimes lacked the strength to be a factor, as opponents bullied him and blocked his shots. (Though, as more of a true wing, part of this was a result of him going up against bigger, stronger frontcourt players.)
Shining moment: Seventeen points (5-11 FG, 6-of-6 FT) in an 80-61 win over Michigan on Jan. 15.
Bottom line: Watford is a talented scorer who can be a matchup problem for the opponent. If he can develop more of a killer instinct and bring a sustained intensity night in and night out, there's no reason why he can't evolve into All-Big Ten type player before his career in Bloomington is over.
Filed to: Christian Watford