The Minute After: Penn State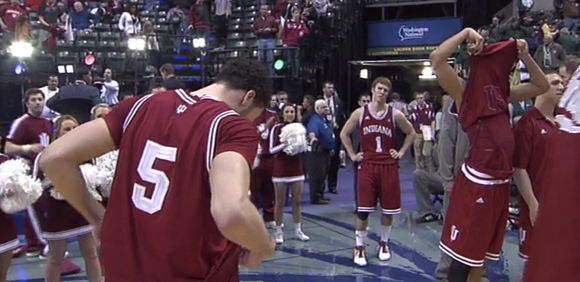 Thoughts on a season-ending 61-55 loss Penn State:
That's all she wrote, kids.
This season is in the books.
And it ends on a nine-game losing streak.
Despite strong starts in both halves from Penn State, Indiana was in this one the whole way. But every time it threatened to pull even or go ahead in the second half, the Hoosiers would a) foul or b) fail to hit the shots they needed to hit to make it interesting. Additionally, Penn State would often a) grab an offensive board which b) led to second-chance points.
That latter point was perhaps the biggest difference in this one. Penn State snagged a ridiculous 15 offensive rebounds on 26 misses. It aided in 17 second-chance points for the Nittany Lions. The Hoosiers only managed two such second-chance points.
So every time it looked as maybe it was going to happen for IU, it just never did.
The Hoosiers were able to grab an advantage with some active hands, racking up 10 steals which led to 11 points on the break.
But there were some familiar demons which came out to haunt the Hoosiers tonight. It again lost the free-throw battle (20 for Penn State, though they made just 11; Indiana was 7-of-11 on the evening), as Penn State went 20-plus minutes in this one without registering a foul. (Which is crazy.)
Indiana also had a rough go of it from 3-point range, despite getting plenty of good looks. They were just 4-of-18 for 22.2 percent. Over their last four games, the Hoosiers hit just 22.3 percent overall from long range (15-of-67).
This is not good.
Especially in a game where a few more makes from distance could have been the difference between extending your season or going back to Bloomington with your head hanging low.
Other things of note:
+ Jeremiah Rivers took three 3-pointers tonight and made one. He also played like a young man who knew this might be the last game of his collegiate career. Talor Battle was just 3-of-12 tonight. Rivers' hard work on the defensive end was a big reason why.
+ Despite Indiana only turning the ball over 10 times for the game, Penn State managed 18 points off turnovers.
+ Jordan Hulls dished out five assists this evening, his most since Indiana's last win, a March 2 victory against Minnesota in which he has six.
+ Lastly, we'll be firing up a lot of end-of-the-season coverage in the coming days, so stay tuned. The season is over. But Inside the Hall lives on.
Filed to: Penn State Nittany Lions