Thirteen games in, a look at the numbers
A little over a month ago, I took a look at Indiana's efficiency numbers just four games into the Big Ten season.
Things were not pretty on the defensive end.
Have things changed with a larger sample size?
Read on: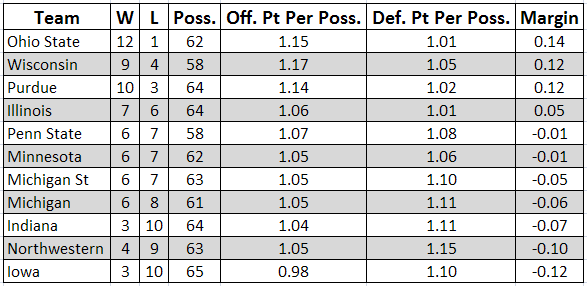 DEFENSE:
Last time around, Indiana ranked last in the Big Ten, as it was giving up 1.26 points per possession to its opponents. Though not a spectacular defensive squad now, the Hoosiers have improved. They now sit at 1.11 points per possession, ahead of only basement-dwelling Northwestern (1.15), tied with Michigan and just behind both Iowa (1.1) and Michigan State (1.1). So if Indiana flashes some solid D the rest of the way out, it's possible it could leapfrog the Hawkeyes and Spartans and finish seventh or better in the conference in terms of defensive efficiency, provided Michigan and Northwestern don't jump ahead of them.
Better communication, more resolve and less lapses have allowed the Hoosiers to defend the 3-point line better. After being up at 51.4 percent (eleventh) through four games, the team has now allowed Big Ten opponents to shoot 39.2 percent (ninth), ahead of Michigan State (42 percent) and Northwestern (39.5 percent). This has helped drop their opponents' effective field-goal percentage from 59.9 percent (tenth in conference) to 51.9 (seventh).
Indiana has also done a better job of fouling less frequently, as their opponents' free-throw rate has dropped from 69.5 (eleventh) to 53.6 percent. Mind you, this is still dead last in the league by a long shot, as Northwestern is tenth at 43 percent.
Again, not stellar, but it's an improvement. This team is better defensively than their wayward start showed.
OFFENSE:
Indiana's offense has regressed since the first four games of the season, going from 1.08 point per possessions to 1.04. Such a mark now has moved them from fifth in the conference to tenth. Yet, there's a lot of teams just ahead of the Hoosiers (Michigan, Michigan State, Minnesota and Northwestern are all at 1.05 with Illinois at 1.06 and Penn State 1.07), which speaks to the bunched-up nature of the middle of the Big Ten pack this season.
So just like on the defensive end, the gap isn't that wide between the Hoosiers and the next teams — meaning a strong showing here at the end of the season could have them reaching the middle of the pack offensively. Thanks in part to Jordan Hulls, the Hoosiers' effective field-goal percentage still remains among the conference's top half: through four games: 50.9 percent (fifth); through 13 games: 49.7 percent (fourth). But a midding free-throw rate (28.5 percent, ninth) — though they're shooting a strong 77 percent from the line (second)  — and a turnover percentage of 18.4 percent (seventh), has kept their offense from more efficient play.
Filed to: Statistics