Four games into Big Ten play, a look at the numbers
Four games is only representative of 22.2 percent of Indiana's 18-game slog through the Big Ten schedule.
There are a lot of games left on the docket — which, may further downward spiral your funk about this team, or give you hope that not all is lost, depending on your current mental state in regards to these Hoosiers.
But in the interest of casting a wider net on what's wrong with this team in the present, here's a look at the numbers angle.
Onward:
DEFENSE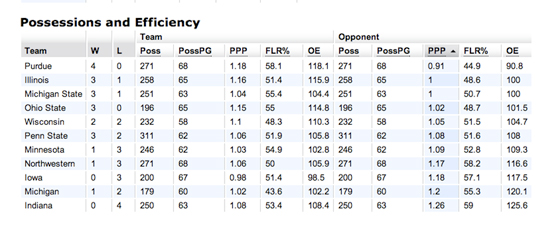 Let's just get this out of the way first: Indiana's defense has been terrible through four Big Ten games. They're allowing the competition to score 1.26 points per possession, ranking them last in the league. They're also 10th in the league in opponent effective field-goal percentage, allowing a mark of 59.9 percent. All those open threes aren't helping matter here, as the Hoosiers are also dead last in opponent 3-point percentage at 51.4 percent.
The Hoosiers also struggle on the defensive glass, as their defensive rebounding percentage mark of 62.4 percent ranks 10th in the league. (Though, I suppose it bears a mention that Minnesota, an opponent of Indiana in these first four contests, is the top offensive rebounding team in the conference so far.)
And don't forget the constant fouls, perhaps IU's most egregious defensive weakness. Indiana's opponent  free-throw rate is 69.5 percent, ranking the Hoosiers last in the conference in that department. They've allowed 130 foul-shot attempts. The next closest is Northwestern with 88.
Indiana isn't so middling in terms of  block percentage (7.5 percent, seventh) steal percentage (eight percent, sixth), and opponent turnover percentage (fifth, 18.8 percent), but these defensive facets aren't enough to overcome its shooting defense and rebounding shortcomings.
Allowing uncontested looks, second-chance attempts and a high rate of free throws is simply not a recipe for defensive success.
OFFENSE
While there's been plenty of jawing for offensive scheme changes, Indiana's offense has actually been fairly efficient. It ranks fifth in the conference at 1.08 points per possession, ahead of Penn State (1.06),  Northwestern (1.06) and Minnesota (1.02) — all teams the Hoosiers have lost to in their 0-4 start. The Hoosiers' eFG percentage of 50.9 percent also ranks them fifth in the league so far.
Remember: This is a team that's tossed up 60 or more points in all four losses — and even hung 81 on Northwestern Sunday.
An offensive rebounding percentage of 32.1 percent (sixth) also has the Hoosiers hovering in the middle of the pack.
What's particularly concerning about the offense in Big Ten play so far is the Hoosiers' free-throw rate, which had  been a relative strength of the team in the non-conference slate. Through their first four conference games, Indiana's mark of 26.5 percent here ranks them ninth, ahead of only Iowa and Michigan. (You wonder if the criticisms of Indiana's lack of true grit and aggressiveness is of issue here.)
The Hoosiers are hitting 74.6 percent of their free throws — ranking them fifth in the conference. So if they're able to work for more looks at the line, it should only help an offense that might not be struggling quite as bad as our eyes sometimes tell us.
CONCLUSION
Play respectable defense, and a win is bound to fall into this team's lap.
But whether they are up to such a task yet remains to be seen.
Chart and stats via Statsheet.
Filed to: Statistics