The Minute After: Minnesota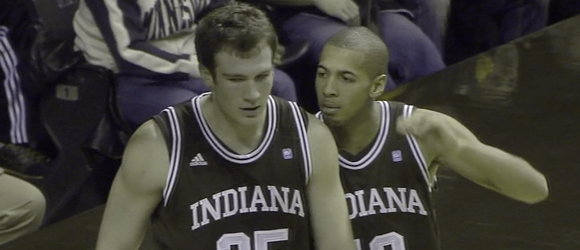 Notes on a 67-63 loss to the Gophers:
This was one the Hoosiers had right in their hands.
A chance to get over the hump. A shot at erasing a four-game losing streak in a tough road environment against a ranked opponent. But they came up a little too short in the end, and it's now 0-3 on this Big Ten season.
After looking lost on defense time and again so far this Big Ten season, Indiana actually churned out a host of praise-worthy defensive possessions in this one. Jeremiah Rivers locked down seemingly every Gopher on the court at one time or another — a Ron Artest-like performance. The Hoosiers also held Minnesota in check for 30-plus seconds on occasion, denying the Gophers the opportunity to get their best look.
And in a game where Minnesota was without junior guard Devoe Joseph and played a bevy of freshman, Indiana often looked like the team that wanted it more. Jordan Hulls superman'ed off the court for a loose ball. There was solid, sustained energy from the entire group for much of the evening, and it had Indiana in this one from the onset, despite some long-ish scoring droughts.
It was a tough one to swallow, largely because Indiana didn't have a Chernobyl-esque meltdown at the end of the contest like we've often seen in this team's losses so far this season. Indiana found itself down eight (61-53) with 4:07 to go, and it seemed like it might be over. But the Hoosiers didn't make a bunch of bone-headed plays to close this one out. There was more thought and a certain sense calm to what they were doing.
To wit: Victor Oladipo took it strong to the hole against a Minnesota team blocking a lot of shots, drew a foul and hit both free throws. Rivers stole the ball on the ensuing Minnesota possession and passed ahead to Oladipo, who hit a layup. After allowing Al Nolan a layup at the other end, Rivers made a nice cut off the baseline, and nearly hit a crafty little turnaround near the rim. A missed three from Nolan on the Gophers' next possession. IU down six with 1:57 to go. Watford looked strong — a rare sight tonight — on a take to the rim, but missed. Another defensive stop for the Hoosiers led to a bit of a fast break as the ball kicked out to the perimeter and Jordan Hulls controlled it. He passed to wide-open Maurice Creek, who missed a three. Creek got his own rebound, and missed another three.
From there, the Gophers corralled Creek's second clanker, and Indiana missed its chance to cut it to three — what would have been a 63-60 deficit — with 40-plus seconds to go.
It just made it a little too far out of reach.
In total, the Hoosiers outscored the Gophers 10-6 in the final four minutes of the game, a vast improvement over other losses so far this year.
It's progress. But it's also yet another loss.
Other thoughts:
+ Christian Watford still has work to do. He's trending a lot towards last year of late, where he's too upright in and around the rim (a point Dan Dakich made tonight), and teams are feasting off that with blocks, deflections and the like. Against a team like Minnesota with a large frontline, it becomes even more apparent. He went 2-of-13 from the field (0-of-3 from three) tonight for only four points.
As the Hoosiers meander along this Big Ten season, Watford will continue to face more size up front. A better performance from him will aid in their chances at victories going forward.
+ Speaking of size, Guy Marc-Michel's absence was sure felt tonight, eh? He would have helped a lot in a game like this to combat the likes of Trevor Mbakwe — both defensively and on the boards.
+ Indiana did not shoot the ball well tonight, hitting only 37.7 percent from the field (23-of-61) and an OK 35.0 percent from three (7-of-20). But they were able to hang in this one in a variety of other ways. The Hoosiers only turned the ball over seven times — a very sound performance for them. They scored 19 points off Minnesota's 12 turnovers. And they didn't let Minnesota's offensive rebounding — a strength of the Gophers, as noted earlier today — get the best of them.
Indiana held strong in this category, as it scored 14 points off offensive rebounds. Minnesota bested them by only one at 15. But this doesn't mean the Gophers didn't snag a ton of offensive boards. By grabbing 19 of them, Minnesota had an offensive rebounding percentage of 48.7 percent — a good deal higher than its season average of 39.6 percent.
The Gophers also got 18 points at the line (18-of-28), good for a free-throw rate of 52.8 percent — also above their season average of 45.8 percent.
Filed to: Minnesota Golden Gophers