Pomeroy Preview: Minnesota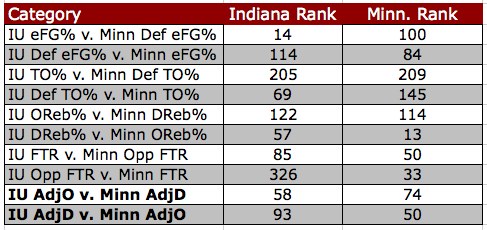 As Zach alluded to yesterday, Minnesota is one of the best offensive rebounding teams in the country, ranking 13th with an offensive rebounding percentage of 39.6 percent. That's very good. If a team is grabbing nearly 40 percent of its misses, opportunities are abound for second-chance points.
But Indiana has proven a strong team in keeping opponents from snagging a lot of their misses — by allowing an offensive rebounding percentage of 29.2 percent to opponents, the Hoosiers rank 57th in the country — so the battle of the boards is worth keeping an eye on tonight.
Elsewhere, we see that Minnesota gets to the line a lot, as their free-throw rate of 45.8 percent ranks 33rd in the country. With Indiana having a proclivity for fouling opponents at a high rate, it's possible it may be a foul fest up at The Barn this evening.
Minnesota also ranks in the top 75 in both adjusted offensive efficiency (50th) and adjusted defensive efficiency (74), so they're fairly solid on both sides of the ball despite what their 0-2 record in the Big Ten might suggest.
The Gophers also aren't particularly adept at forcing teams into turnovers — a defensive turnover percentage of 20.1 percent  ranks them 209th in the country — so this might not be as much of an issue for the Hoosiers tonight.
Though, of course, their turnovers are often of the self-inflicted variety.
Filed to: Minnesota Golden Gophers