Pomeroy Preview: Indiana at Boston College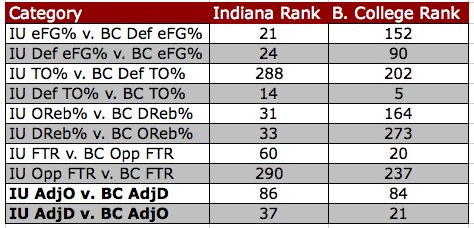 A few things pop out here:
1) Free throws should be something to watch tonight. Boston College ranks 237th in the nation in free-throw rate, so the Eagles aren't getting to the line all that often. As I detailed yesterday, Indiana has been giving up a lot of free throws so far this season — ranking 290th in opponents' free-throw rate. So it'll be interesting to see what gives: Will the Hoosiers continue their ways of putting the opposition on the line regardless of if it's actually in the other team's DNA?
2) Turnovers present an interesting case study, too. IU has been great at getting other teams to cough up the ball so far this year, but Boston College is one of the best ballhandling teams in the nation at this juncture. Again, we'll see what gives here once the ball tips. The Eagles are only 202nd in defensive turnover percentage, so despite many comments from the ITH faithful about their sound pressure D, the numbers don't present them as overly intimidating in this regard — though they may certainly still test the Hoosiers this evening.
3) Because Boston College takes care of the ball and is shooting well enough, their adjusted offensive efficiency (112.9 points per 100 possessions) is higher than Indiana's (105.1). Indiana's adjusted defensive efficiency (91.2), though, has been very good, putting them in the Top 40 in the nation. So with a tougher offensive opponent on the other side of the ball, IU's defensive prowess could be put to the test a bit more this evening.
Note: Alex made this chart for me without Tuesday's games reflected in the rankings, so a few are a touch off.
Filed to: Boston College Eagles