Scouting Report: 2012 commit Hanner Perea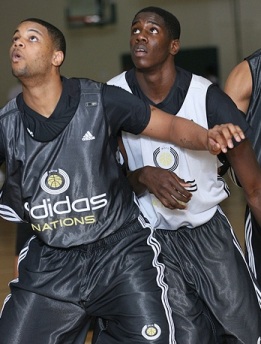 Joe Eberhardt is a high school sports blogger and contributor to Inside the Hall. You can follow him on twitter at @IndyHoopsBlog.
The first time I watched Hanner Perea play, I knew how good he was in a matter of seconds. Ironically, it was in Indiana University's Assembly Hall. In one sequence, he blocked a shot and recovered the ball, threw it to a teammate, sprinted down the floor, and literally jumped over an opposing player to throw down a vicious two-handed alley-oop dunk.
Most Impressive: The first thing that stands out about Perea is his natural athletic ability, strength and length. He uses his great leaping ability to score in the paint with an array of thunderous dunks. Hanner's athleticism also stands out on the defensive end where he blocks plenty of shots and alters many more. He can block shots when his man goes up for an attempt, or rotate over to the weak side to block a shot by a penetrating opponent. Perea can run the floor as fast and hard as any big man I've ever seen, whether racing down court to catch an alley-oop pass, or to block a shot on the defensive end. Hanner's athleticism and strong hands help him as a rebounder, especially on the offensive end, where he uses great timing to often thrown down put-back dunks. Although big men aren't usually known for their great free throw shooting abilities, Hanner has a nice stroke from the foul line and is able to convert free throws consistently.
Needs Improvement: The majority of Perea's offensive production comes from offensive rebounds, alley-oops and wide-open dunks. He's occasionally shown a nice short-range hook shot, but it needs to develop consistency. If he could add a consistent mid-range jump shot or go-to post move, his offensive game would become even more dangerous. Becoming comfortable with the ball in his hands would also be a great step towards expanding his offensive game. If Perea could create his own shot off the dribble or get to the rim, he would be a nightmare to defend. Another area Hanner could improve is his decision making when going up for a shot near the basket. Often he will try too hard to dunk a shot that could be easily converted as a layup.
Conclusion: Perea will arrive in Bloomington poised to make an immediate impact on both ends of the floor. He'll be an intimidating presence as a shot blocker and defender down low. On offense, he'll have to adjust to playing against players as strong as him, but his athleticism and ability to finish down low won't be denied. Perea should excel running the break and will be a fan favorite as a dunker. Expanding his offensive game outside the paint would help him make an even bigger impact at Indiana, but he'll be productive regardless. Hanner Perea will be one of the most physically gifted players in the Big Ten from the get go.
(Photo credit: Jack Arent/adidas)
Perea YouTube Highlights:
Filed to: Hanner Perea