A quick update on Yogi Ferrell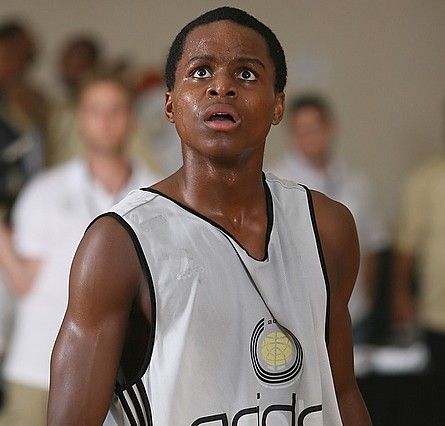 Lost a bit among the Hanner Perea commitment and the official visits of Austin Etherington and Cody Zeller this past weekend was the fact that IU's primary point guard target, Kevin "Yogi" Ferrell, snuck in a quick unofficial visit on Saturday.
The 2012 Park Tudor guard, who said a prior obligation prevented him from attending Friday's "Night of the Living Red," joined the aforementioned prospects at the IU-Northwestern football game.
"It was a lot more fun with Hanner, Austin and Cody down there," Ferrell told Inside the Hall of the experience in Bloomington, adding that it was "pretty much all the same" as his previous trips.
In an interview last spring, Ferrell's father Kevin told Zach Osterman that Indiana wasn't recruiting Yogi quite as heavily as a few other schools. That's no longer the case and it's become clear in recent months that Ferrell is IU's most coveted recruit at the point guard position.
"They're just showing a lot more love," he said. "The coaches are coming out, seeing my open gyms, talking to me about being a leader if I come to Indiana. They're definitely recruiting me more than they used to be."
Like many who follow the program closely, Ferrell will be keeping an eye on the Zeller decision, which is expected to come sometime next week with the early signing period beginning on Wednesday, November 10.
He admitted that Zeller's announcement could play a factor into his decision, which he's doesn't expect to make until sometime next year.
"It would affect me and where I'm going," he said. "But I'm just going to look at what's best for me, really."
For now, the immediate focus for the five-star floor general is the upcoming high school season and another trip to the Class 2A State Finals at Conseco Fieldhouse in Indianapolis. Park Tudor fell in last year's title game, 41-38, to Wheeler and should get a boost from two newcomers.
"The two freshman, Trevon (Bluiett) and Troy (Spears), are definitely going to help us on the offensive end," Ferrell said. "We're really small right now. We're actually a really fast team. Those two guys should definitely help us."
(Photo credit: Jack Arent/adidas)
Filed to: Yogi Ferrell