Austin Etherington recaps July, looks ahead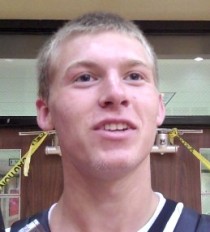 If Austin Etherington moved out of the national rankings as a result of missing significant time this past spring, perhaps his performances in July will prove his name belongs amongst the country's elite high school players.
The 6-6, 190-pound Hamilton Heights guard returned from a stress fracture in his back at the end of May and by the time he reached Las Vegas in late July for the adidas Super 64, his game was clicking on all cylinders.
"I feel like I'm back to normal and playing well," Etherington told Inside the Hall. "But I can always get better. I felt like I proved myself in Vegas and other times in July, so we'll just see what happens."
Playing on a loaded Indiana Elite roster with several high-major prospects, Etherington said lessons in teamwork were the major takeaway from the spring and summer.
"Relying on your teammates is one thing you gotta learn when you get to this level," he said. "Everyone is capable of making plays so it's something you have to get used to and not do it all yourself."
The end of AAU means less time for Etherington with two friends he's drawn closer to over the summer — Washington's Cody Zeller and Park Tudor's Yogi Ferrell.
Although the IU commit says he'll touch base periodically with several of his teammates over the fall and winter, he'll make it a point to continue regular dialogue with Zeller and Ferrell.
"I try to stay in contact with most of them, but Yogi and Cody, I stay closest to them because I'm trying to get them to go to school with me. That's a big thing."
The pitch to join him at IU, Etherington says, is the same for both players. The delivery of his message, however, is different.
"Both players are different. Yogi, you can mess around with him, but Cody, you can't just throw it all at him. He's going to go where he wants to go," Etherington said. "Indiana would love them for staying in-state. That's one thing I let them know and they like that idea."
Etherington's focus now shifts to his senior season of high school, where he'll try to lead his team to a sectional championship. A big part of that goal being reached could hinge on the play of Etherington's younger brother, Alex, who will be a sophomore.
"I'm expecting a lot out of him," he said. "He finally got the chance this year to play AAU and play against good competition. He played so well that he got to play on the other Indiana Elite team that went out to Vegas. He's more of a forward than I am. He still can't handle the ball, but he's better guarding the post and he can shoot the ball just as well as I can."
If Etherington is able to lead Hamilton Heights to its first sectional title since 2003, a potential meeting with his friend and the frontrunner for Mr. Basketball, Zeller, is already on his mind.
"We definitely want to win the sectional, but I think our team's good enough we can make a run in the tournament and meet up with Cody. My goal is to meet up with Cody and see if we can beat Cody and not let him win a third state championship."
Related:
+ adidas Invitational Video: Austin Etherington
+ adidas Invitational Video Q & A: Austin Etherington
+ Etherington updates injury, talks Elite Camp

Filed to: Austin Etherington