Etherington updates injury, talks Elite Camp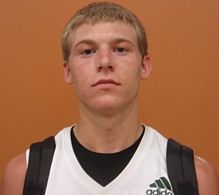 After missing time earlier this spring with a stress fracture in his back, Austin Etherington returned to the court at last month's Bob Gibbons Tournament of Champions. And while he's not yet back to full strength, the 2011 Hamilton Heights guard is feeling better each day.
"I'm starting to feel back to my normal self," Etherington told Inside the Hall on Sunday. "The doctor, the last time I saw him, he said I was only 70 percent, but I could still play. I feel like I'm better than 70 percent now, but I'm still a little slow on my first step. My back doesn't bother me when I play, so that's good."
With some time off in June from AAU, the IU commit made the trip to Bloomington on Sunday for the Elite Camp and will also travel to Charlottesville next week for the NBA Players Association Top 100 Camp on the campus of the University of Virginia.
Etherington said he enjoyed the opportunity on Sunday in Bloomington to get to know incoming recruit Victor Oladipo better and also picked up some advice from Tom Crean.
"Everytime I see Coach, he tells me to keep working on my ball handling and my shooting because you can never not need to improve on those kind of things," Etherington said.
With his decision out of the way, Etherington's month of July will be much different than many of his Indiana Elite teammates who will be looking to make an impression on college coaches.
The 6-6 guard said he'll use the summer to prove he's healthy and deserves to be mentioned among the nation's best players.
"I want to go out and play and prove myself because in May and June, I was hurt a little bit so my name dropped off, he said. "So I have to go out and prove myself and show what I can do. I dropped out of the 150 on Rivals. It definitely motivates me. The people I've talked to about it tell me, 'you've got to go out there and prove yourself and show them that you really are in the top 150.' I was hurt for a tournament and then I didn't even play for a tournament, so it kind of hurt me a little bit (the injury)."
Filed to: Austin Etherington