B.J. Young talks IU, Elite Camp, NBA Top 100 Camp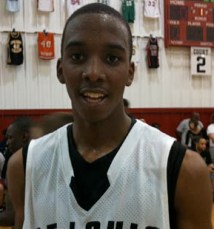 It's not often that a player with such limited high school action under his belt rises to a top 40 national ranking.
But that's exactly the case with 2011 Florissant (MO) combo guard B.J. Young.
The 6-2 Young, who transferred to McCluer North after being dismissed from the team as a junior at Hazelwood Central for an undisclosed reason, was one of the top performers at the Elite Camp earlier this month. Scout.com ranks him as a four-star prospect and the No. 39 player nationally in the 2011 class.
His visit to Bloomington for the Elite Camp was such a positive experience that it prompted Young to tell Jody Demling of The Courier-Journal that IU is one of his frontrunners.
"I really, really like IU," Young told Inside the Hall. "I like Coach McClain and Coach Crean a lot. They showed me a good time at the Elite Camp. The new facility, I love the 24/7 access to the gym. I just loved the whole Indiana experience. I might like to go there one day."
Young, who is playing AAU with St. Louis Gameface, reeled off a list of schools that includes includes Marquette, Purdue, Baylor, Arizona, Southern Illinois, Missouri State, St. Louis, Illinois State and Virginia Tech. He said his ability to create his shot helped him stand out with the IU staff.
"They like the way I create my own shot and create for others," he said. "I went hard through all the drills and picked up my intensity for the whole camp. I think they liked the energy I brought to the game and my slashing ability."
Young participated in this past weekend's NBA Top 100 Camp and was named one of five "workout warriors" while averaging close to 15 points per game.
"I really enjoyed going to the camp," Young said. "They showed us a great experience. I got a chance to be around some NBA players. I learned a lot of new stuff, a lot of niche's for my game to help me. They gave us a lot of great talks about things before and after basketball, off the court and on the court. I think I played pretty good down there. I really liked it."
While he doesn't have a return trip to Bloomington scheduled, he hopes to bring a few guests along for the next visit.
"I really hope to visit Indiana with my parents," he said.
(Photo credit: Scout.com)
Filed to: B.J. Young