Indiana offers NBA Top 100 Camp MVP Chane Behanan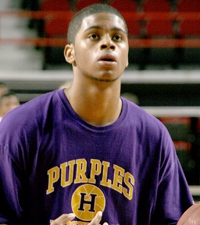 It didn't take long for Chane Behanan's NBA Top 100 Camp performance to result in a new scholarship offer for the 6-8 forward from Bowling Green (KY).
The NBA Top 100 Camp MVP confirmed to Inside the Hall that Tom Crean called him on Sunday with an offer.
"They've been watching me and another scholarship has opened," Behanan said. "They want to bring me up and show me around sometime this week or next week."
The Cincinnati native, who moved to Bowling Green last summer, said that he hopes to set the visit up soon.
"I told Coach to give my Mom a call sometime this week and we'll set it up and I'll be on my way up there," he said.
Behanan, a four-star player that could move up considerably in the rankings after his performance in Charlottesville, was the third leading scorer in the camp at 14.7 ppg. He originally committed to Cincinnati before opening up the process last August.
"It was a good experience for me going up there and playing in front of all of those scouts and being coached by Mo Evans of the Atlanta Hawks and Gary Trent," Behanan said. "Just being coached by them and learning from them was really a good thing. I don't think I ever took a break on offense or defense. I rebounded defensively and offensively, moved without the ball. I think that's what that separated me."
While Behanan's list of schools includes Alabama, Cincinnati, Georgia, Kansas, Kentucky, Louisville, Purdue, Texas and West Virginia, he said he doesn't have a leader at this point.
"I'm open," he said.
(Photo credit: Rivals.com)
Filed to: Chane Behanan