A long, hard look at the Hoosiers
Many of you have your gripes about IU's defense, and it's justifiable. Many of you have gripes about IU's offense. That, too, is justifiable. For the purposes of this post, I'm going to dig into some specifics on both sides of the ball (though, now that I look through this thing, it's really just the offense), and seek to find a clearer understanding on why this team has lost eight straight Big Ten games.
Ready, set, go.
Start here.

Thanks to the Big Ten Geeks, here's a scatter plot of offensive and defensive efficiency in the Big Ten as of yesterday: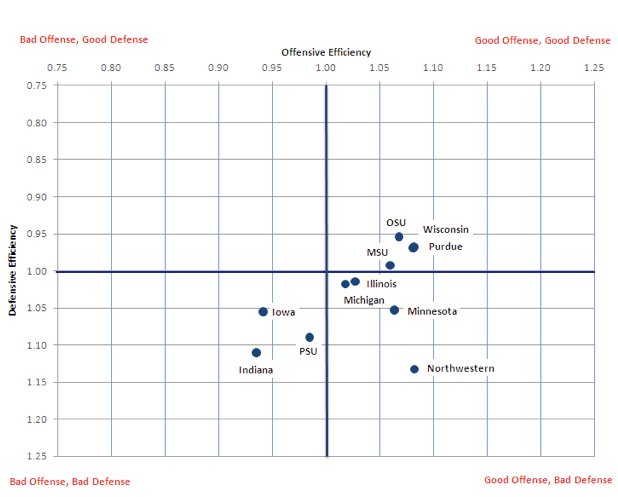 Yes, not only is IU worst in the Big Ten offensively, as its only scoring about .93-.94 points per possession, but its second to last in defensive efficiency, allowing about 1.11 points per possession. If you want to know why IU has lost eight straight Big Ten games, you don't have to look any further than these two numbers. When you aren't scoring as much as your opponents, and you aren't defending them well either, it's sort of hard to get over the hump, ya dig?
When will they crack 60?
Let's get visual, visual again. Via Statsheet, here's IU scoring numbers:

IU has failed to eclipse the 60-point mark in its last four games, and barely did it in its fifth to last game — hitting 61 — in a loss to Northwestern. And pace really has nothing to do with the low amount of points IU is scoring: according to Ken Pomeroy, the Hoosiers' adjusted pace of 68.6 possessions per game is a touch higher than the national average. They aren't playing a slow game.
So why then, Ryan, are they specifically having trouble putting the ball in the hole?
There are four factors right now that are hurting the Hoosiers:
1) They're one of the worst teams in the nation at getting their shots blocked. A staggering 12.9 percent of their shots get swatted, which ranks them 338th out of the 347 Division I teams. Meaning this: for every ten shots they take, it's likely at least one of them isn't going to find it's way anywhere near the hoop. Which makes it that much harder for them to put the ball in the basket.
2) Turnovers. Oh the turnovers. They are averaging 15.2 of them per game. That's 15 possessions a game that are essentially wasted. Add in four or five blocked shots a game, and the Hoosiers are squandering 20 scoring opportunities per game. That's a lot.
3) Points in the paint. Let's be real: IU lacks a low-post scoring threat. They just do. And outside of Jeremiah Rivers, this team also lacks a guy that can beat someone off the dribble and take it to the hole for an easy two. As such, this team just doesn't take a lot of higher-percentage shots around the rim. And they're not a particularly skilled shooting team from the outside either. They rank last in the Big Ten in field-goal percentage at 39.0 percent, and second to last in the league in 3-point percentage at 32.3 percent. If this team was able to pump in threes at an effective rate to compensate for the lack of inside scoring, they'd have a better chance of being competitive. But that's just not the case.
4) This may seem rudimentary, but it's worth bringing up: teams have seen enough tape on the Hoosiers to know their weaknesses and flaws, and with their inexperience and age, they just aren't overcoming any of it as of late.
Add all this stuff up, and it's why you see IU go on ridiculously long scoring droughts game after game.
OK, that about does it for me. As always, feel free to add in anything I missed. I'm sure there's more.
Filed to: Jeremiah Rivers, Statistics, Stats