The Minute After: Michigan State
FINAL SCORE: 72-58 | Box score
We feeling better out there, guys?
Sure, IU got murdered this evening. But all the worries about this team in recent days, that they were lacking effort and hustle and heart and resolve wasn't the case tonight. They took some charges. When absolutely everything was going Michigan State's way, they found a way to stay in the game with an almost perfect night at the free-throw line. They trapped and defended their tails off in the final minutes of the game when a win was far out of reach.
They looked more like the scrappy, hard-working underdogs tonight than the team that wasn't even showing up.
That being said, this evening was a rough one.
IU's lack of size was exploited time and again. The Spartans pumped in the points inside — 40 of their 72 points came in the paint — and stymied the Hoosiers around the basket on the offensive end — IU only had eight points in the paint this evening, and that was a large reason why they shot so poorly — 34.9 percent — tonight; unless you are hot, hot, hot from the outside, it's tough to shoot a high-percentage if you're not also getting some bunnies in the paint. IU did win the rebounding battle tonight, as they snatched 30 (17 offensive) to the Spartans' 24 (11 offensive). But the Hoosiers are a solid offensive rebounding team to begin with, and when you miss so many shots, those offensive-rebounding opportunities present themselves more often.
And in the second half, the Hoosiers had a hard time defending in the pick-and-pop game, as Kalin Lucas seemed to score at will off of high-post screens. Michigan State simply has more talent and experience at every position on the floor and took care of business on the road. This is what good teams do. Steve Lavin talked about this potentially being a trap game for the Spartans tonight, but that wasn't the case, as they shot a ridiculous 59.3 percent from the floor — a season high.
IU also had one of their typical scoring droughts tonight, but it was — I think — the most extreme of the season: they went the final 10:16 without a bucket in the first half, and it took until the 17:01 mark in the second half until they finally hit one — a layup by Christian Watford. Total that up and it's 13:15 of not putting the ball in the hole. We talk about low margin for error all the time with this team, but it reared its ugly head again tonight: you just can't have a lapse like that against a team as skilled and experienced as Michigan State is and expect to have much of a fighting chance. The Hoosiers also only had a measly five assists to 16 turnovers, turnovers that led to 23 points for the Spartans.
But you know what? IU wasn't really out of this game until late in the second half, and it's because they shot a terrific 89.3 percent from the foul line, knocking down 25-of-28 attempts. Remember when this team couldn't hit a free throw to save its life? When they didn't score those last 10 minutes of the first half, they hit 13 free throws during that time frame instead. For the game, they dominated on the line, as Michigan State only had 10 attempts.
It's a bit of an outlier, because Michigan State is usually pretty good at defensive free-throw rate. They entered tonight's contest holding opponents to 27.6 percent on FTA/FGA, good for 13th in the country. Yet, IU is also 80th in the country at getting to the line with a free-throw rate of 41.8 percent, so they deserve some credit for winning the free-throw battle tonight.
It's another loss — IU's seven straight.
But it's a loss we can all feel better about. And for this moment in IU's slow and steady climb to relevancy, I'll take it.
BONUS FUN:
Maurice Creek got credited with a rebound tonight: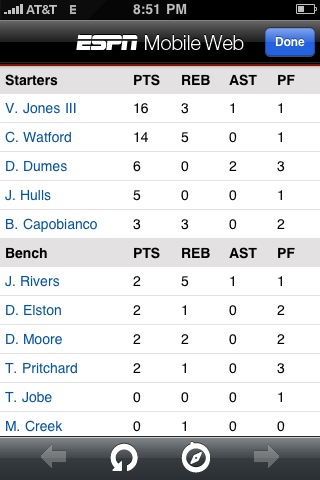 Thanks to reader VP for the e-mail on that.
Filed to: Kalin Lucas, Michigan State Spartans