The Minute After: Northwestern
Sorry for the tardiness here, ended up stopping for a bite to eat on the way back down from Evanston to Chicago. In an effort to make amends, here's a photo of Tom Crean at the United Center last night taking in Dwyane Wade vs. the Bulls.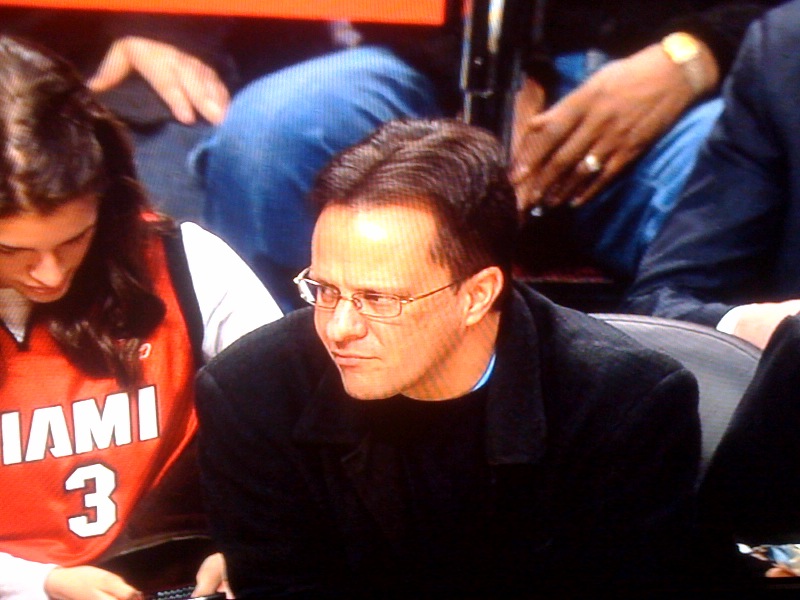 The most telling sign this was just not IU's day?
For all the Hoosier fans inside Welsh-Ryan Arena — and there were plenty of them, as is usually the case for this game — only twice was there a reason to stand up and cheer. Just before half when the Hoosiers cut it to nine after the Daniel Moore steal and Jeremiah Rivers layup, IU fans got on their feet, but they were quickly silenced when NW's Mike Capocci dunked it home with just a few ticks left on the clock.
And in the second half when IU cut it down to 11 with 7:03 to go, the first and only collective "IU clap clap" cheer emanated down from the rafters.
But it was short lived.
What this afternoon came down to was Northwestern comfortably and effectively running their offensive sets, and Hoosiers doing anything but. When the Wildcats weren't getting those easy buckets off their patented back cuts and screens, they were going to their bread and butter this season: the 3-point shot. Almost 40 percent of their points came on threes today, as they hit 10-of-25 for 40 percent. They also shot a blistering 52.1 percent for the game. They executed all game long, and scored 78 points — almost 10 points over their season average.
Conversely, IU looked lost offensively, and rare was it they got a good look or easy lay-in. Northwestern's defense didn't allow them to get into a flow or rhythm; shot-clock violations ran rampant. You have to wonder if after playing two emotional games against rivals, it allowed for a bit of a mental letdown against a squad with lesser talent today.
And how's this one for you: Devan Dumes, Bobby Capobianco, Jordan Hulls, Derek Elston and Tom Pritchard were a combined 2-of-19 for the game. Outside of Verdell Jones — who scored a career-high 28 points — and Christian Watford — 5-of-11, 16 points — the Hoosiers only got another 17 points from the rest of their roster. They only shot 35.3 percent for the game, and missed all seven threes they took in the second half. It's hard to come back from a double-digit deficit in the second half when you're not knocking down shots.
IU was just never able to score on consecutive trips down the floor, while also getting a few stops on defense to try and make a run to get this thing close in the second half.
It's frustrating, because outside of the shooting, some of the Hoosiers' usual pitfalls weren't issues today: they had a season-low eight turnovers, and hit 23-of-27 free throws for 85.2 percent.
Alright, this was nothing profound (as per usual), and I've barely paid attention to the Super Bow here, so I'm going to end it here.
On to the next one.
Filed to: Norwestern Wildcats