Pomeroy Preview: IU vs. Ohio State
Ohio State is 0-2 in the Big Ten, with losses to Wisconsin and Michigan. The same Michigan squad IU beat New Year's Eve. On the surface, this should give the Hoosiers some confidence. But then you realize both these game were on the road for the Buckeyes, and tonight's tilt is in Columbus.
And then you look at this: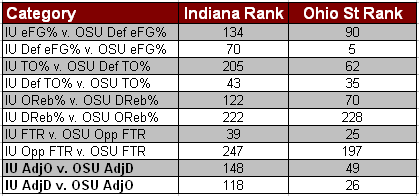 As Tom Crean said earlier this week, Evan Turner or no Evan Turner, this team can ball. They shoot it well, as they're fifth in the country in eFG percentage. They do a good job taking care of the ball and they're a solid defensive rebounding team. Their adjusted defense is in the top 50 in the country, and their adjusted offense is 26th.
However, Ohio State is struggling on the offensive boards, which is a good thing for the Hoosiers, as they're currently only 222nd in the country on the defensive boards.
If there's an area IU can exploit this evening, it's getting to the line. IU is one of the best teams in the country — 39th — at finding their way to the charity stripe, while Ohio State's opponents this season are getting to the line a lot as well, as their opponents FTR is 25th in the country. But as is often the case with the Hoosiers, it's not about getting to the line; it's about getting to the line and converting.
With the way Ohio State has come out the gate so far this Big Ten season, it's easy to point to this as a potential game the Hoosiers could steal on the road this season. But don't let their conference record deceive you: Ohio State is a good team.
All stats from Kenpom.com.
Filed to: Ohio State Buckeyes