ITH Super Happy Fun Time Player Profile: Jeremiah Rivers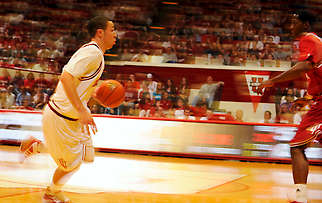 Hoosier Hysteria is on the horizon and it's time for Inside the Hall's player-by-player breakdown of the 2009-2010 Indiana Hoosiers. Today: Jeremiah Rivers.
There is no player on this 2009-10 Hoosiers squad I'm more interested in seeing on the court than Jeremiah Rivers. I've heard and read so much about him: how he's the leader the team so desperately needs; how he looks terrific in practice; how he'll be a rock at point guard for IU. He is part of a basketball pedigree with his father being Doc Rivers, while leaving a school, Georgetown, that's been quite good in recent years to transfer to Indiana.
I don't think there's a doubt in anyone's mind that he'll be the starter from day one, and it's his job to lose as the season progresses. There's a sentiment that with Rivers at the helm, everything feels safe: there is no wildness of Daniel Moore, there is no Verdell Jones perhaps playing a bit out of position. There is a point guard. A true point guard.
But have we all been duped? Think about the level of competition Rivers practiced against last season, the one he looked so good against. It wasn't exactly stellar. As a sophomore at Georgetown, he only averaged 2.5 points, 2.4 rebounds and one assist in 18.6 minutes. I know he was brought in mainly for defense, and wasn't a go-to guy. But that's hardly anything to write home about.
Look: Rivers will be an upgrade over what the Hoosiers marched out at point last year. He'll be better. And, trust me: I want Rivers to be as good as advertised. I want him to lead this team. It's just that, based on past performance and a year of practicing against weaker competition, I'm  going to be cautiously optimistic about him heading into this year.
Bottom line: Rivers offers an immediate, reliable and experienced upgrade for the Hoosiers at point guard this season. Unlike Jordan Hulls, he has a year under Tom Crean's system, which should help smooth out any wrinkles once the season is underway.
Quotable: "As a coach you want the leadership vacuum to be filled right now. You want it to be set. But it is not like that. He hasn't played in a year. I don't know that he always understands when I say this, but he has won at every level. There is no question about that. He won in high school and he won in college. He has won three BIG EAST Championships (ed. note:  this is inaccurate, he was only at Georgetown two years) and has been to a Final Four. However, outside of high school, which is a little different, I'm not sure he has absolutely been responsible for winning. He is going to have a huge responsibility in how we play to win. Not just coming in like at Georgetown. Now, he was on the court a lot at winning time at Georgetown because of his defensive abilities, but he also wasn't the lead guard. He also wasn't one of the 28 or 30 minutes a game guys. He very well could play into that for us." — Coach Crean on Rivers
Rivers talks about his father, and coming to IU last season:
Filed to: 2009-2010 season preview, Jeremiah Rivers