No shortage of 2010 visitors expected soon in Bloomington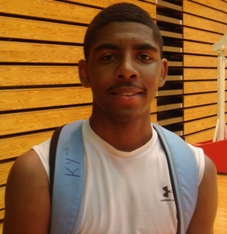 The limited inventory of scholarships isn't putting the brakes on the pursuit of 2010 talent from the IU basketball staff. Here's a look at a tentative schedule of visitors in the coming weeks:
+ Kyrie Irving, 6-2 guard, St. Patrick's (NJ): Adam Zagoria reported late Thursday night that Irving (pictured) will give Duke a visit on September 25 and that a visit to Bloomington will take place, but a date has not been set.
+ Moses Morgan, 6-5 wing, Palo Verde (NV): The son of Winston Morgan, a former IU player, will visit on September 12 according to The Courier-Journal's Jody Demling. Morgan will also take an official visit to Arizona State and other visits could follow.
+ Stacey Poole, 6-5 wing, Andrew Jackson (FL): Indiana made Poole's recent cut to four schools according to Evan Daniels of Scout.com. Poole will visit Indiana and Kentucky both on the same weekend — with a trip to Bloomington on September 4.
+ Victor Oladipo, 6-4 guard, DeMatha (MD): Oladipo could cross paths with Poole as the Maryland native told Mike Pegram of Peegs.com of his plans to visit on September 4-6.
+ Brandon Mobley, 6-9 forward, Windsor Forest (GA): Mobley told the Indiana Daily Student that he's down to the Hoosiers, South Carolina and Cincinnati and will visit in November.
+ Keep an eye on: Jelan Kendrick, a 6-6 guard from Westlake (GA) and the cousin of former IU fan favorite A.J. Moye, will reportedly take part in this weekend's Elite Camp. Kendrick is the No. 8 player in the 2010 class on Rivals.com. 6-4 Norcross (GA) guard Jeremy Lamb is another guy to keep on the radar.
Filed to: Brandon Mobley, Jelan Kendrick, Jeremy Lamb, Kyrie Irving, Moses Morgan, Stacey Poole, Victor Oladipo