SI's Seth Davis on Irving, Teague and Stacey Poole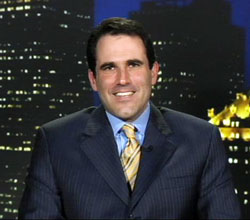 For my money, Sports Illustrated's Seth Davis is one of the better college basketball journalists in all of the land. Most of you probably know him best from his work in the studio alongside Greg Gumbel on CBS, but Davis also writes columns for SI and published When March Went Mad earlier this year.
Since most of us are trained to read recruiting writings from the likes of Jody Demling of The Louisville Courier-Journal or Dave Telep of Scout.com, it's not often that we get the opinion of a scribe who normally doesn't follow recruiting as a religion.
Davis hit the recruiting trail hard last week and today published his scouting reports of several of the nation's top players, including three IU recruiting targets:
Kyrie Irving, 6-2, 175, Elizabeth, N.J.: Irving is the point guard at St. Patrick's High, which includes 6-8 junior Michael Gilchrist, whom I wrote about last week. You think that's a tough inside-outside combo? Irving isn't as strong as Selby, but he is such a deft ball-handler with a mean crossover that he repeatedly gets by his defender in the half court. Irving is more of a true point guard than a scorer, and his outgoing personality enables him to be a strong leader. His recruitment seems to be wide open, but his coach at St. Patrick's, Kevin Boyle, told me that Indiana, spearheaded by its assistant Roshown McLeod, a New Jersey native who played for Bob Hurley at St. Anthony, has been working especially hard to get him.
Marquis Teague, 6-2, 170, Indianapolis: Teague gets a lot of attention because he is the younger brother of Jeff, the Wake Forest star who was just drafted in the first round by the Atlanta Hawks. But even without that pedigree, the rising junior would gain plenty of notice. He is considerably further along at this stage than his brother, who wasn't considered a high-major recruit until the start of his senior year. Marquis is much more of a pure point guard than Jeff. He is blazingly quick, especially in the open floor, and though his game has a little too much French pastry, as Al McGuire used to say, he is great at getting the ball to the open man. He also has a tendency to run his mouth, but I'd rather have a guy be a little too chippy than lacking in confidence.

Stacey Poole, 6-5, 190, Jacksonville, Fla.: Here's another wiry high-flyer. His father played for Florida two decades ago, and it was no coincidence Billy Donovan was at every one of Poole's games in Philly. It's hard to say how skilled Poole is in a half-court setting, because the games at the Reebok were such sloppy, up-and-down affairs. South Carolina and Clemson are hot on Poole's trail as well, but in the end it's hard to envision him turning down his home-state school, especially when it's also his dad's alma mater.
Nothing particularly ground breaking in this piece, but here are a couple of observations: 1) Irving's high school coach has taken notice of IU's urgency in recruiting his point guard; 2) I'm not the only one to notice that Teague's jawing could be troublesome and 3) Stacey Poole isn't a prospect that is talked about much with IU, but the lack of a Hoosier mention doesn't mean they aren't in the mix. As recently as a couple of weeks ago, Poole told TigerIllustrated.com: "I could see myself going to Clemson. And I could also see myself going to Indiana."
Filed to: Kyrie Irving, Marquis Teague, Seth Davis, Stacey Poole