Kyrie Irving trims list to 10, will visit IU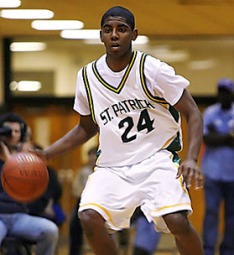 St. Patrick's (NJ) guard Kyrie Irving still has a sizeable list of schools to sort through — ten to be exact — but the good news for the IU coaching staff is that the Hoosiers appear to be in excellent shape.
Irving, who sat out the first part of this past high school season due to transfer rules, is viewed as one of the top priorities in the 2010 class and told Adam Zagoria of the Zagsblog that IU will definitely get a visit this summer:
Irving listed the following schools in a text message Tuesday morning: Georgia Tech, Duke, Indiana, Seton Hall, Texas A&M, Maryland, Pittsburgh, Notre Dame, Florida, Marquette and Kentucky.

Noticeably absent were Rutgers, Villanova and UConn.

Irving will also take a couple of visits this summer.

"I'm taking one to Texas A&M and one to Indiana," Irving said. "I don't know the dates."
One school to keep an eye on with Irving is Kentucky. Rod Strickland, who was recently named the Director of Basketball Operations in Lexington, is a close family friend.
Previously on ITH:
(Photo credit: NJ.com)
Filed to: Kyrie Irving