Report: "Strong possibility" Ferguson will re-open recruitment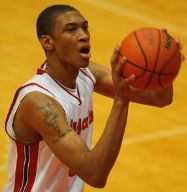 You remember Dominique Ferguson, right? IU was hot on his trail until the whole Kelvin Sampson fiasco. And then out of the blue last April, he verbally committed to Billy Gillispie and Kentucky.
But with today's firing of Gillispie, it's looking like a strong possibility that the 6-9 Ferguson may soon be back on the board. Jody Demling of The Louisville Courier-Journal has the scoop:
Deon Ferguson, the father of the University of Kentucky's most prized recruit in any class, said there's a "strong possibility" his son might re-open the recruiting process.

"Right now, he's thinking about the possibility of decommitting. I would say there's a strong possibility that he re-opens the process."
It's hard to say at this point what level of interest, if any, Ferguson would have in the Indiana program. But if a top 10 player nationally gets back on the open market just 50 miles up the road, you'd better believe Tom Crean will be finding out.
Filed to: Dominique Ferguson