Dominique Ferguson one to watch in 2010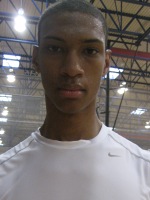 One name in the 2010 class that fans of basketball in the state of Indiana will be hearing a lot over the next three years is Dominique Ferguson of Lawrence North. Alongside Stephan Van Treese and Jeff Robinson, the 6'9″, 205-pound Ferguson will help form arguably the best frontcourt in the state. And he's quickly becoming a recruiting target for several high major programs.
Ferguson is projected as a three at the college level and is an intriguing prospect given his size and quickness.
"I like to play an inside-out game. I like to play outside and then work my way in. I'm kind of a wing type, slasher. It seems like on defense I can intimidate people because I've got really long arms," Ferguson said.
Ferguson has battled injuries over the last two years, but is now 100% and ready to make an impact this year.
"About a year and a half ago or two years ago I tore my ACL and then I tore my patella tendon two months after that. So I had two knee surgeries. I missed about four or five games last year, came back in the middle of the season, played JV and worked myself back into everything, but I wasn't 100% when I came back," Ferguson said. "I'm real excited, there's nobody else in the state that can match up with us height wise. Our guards are pretty good too."
His play over the summer got the attention of many recruiting analysts, including Dave Telep of Scout.com who lists Ferguson as one of the top 10 players in the class of 2010.
The sophomore also had a chance to check out Hoosier Hysteria this past weekend and came away impressed.
"It was pretty good, I liked it a lot. It seemed like a place I would like to go. I liked the atmosphere," Ferguson said.
As far as the list of schools in pursuit, here's already hearing from quite a few programs and could land his first offer in the near future.
"Wake Forest is about to offer me," Ferguson said. He added that he's also hearing from IU, Purdue, Kentucky, Illinois and Michigan State.
Filed to: Dominique Ferguson