Feb. 16, 2009: The day the Internet decided to bash Indiana for all the wrong reasons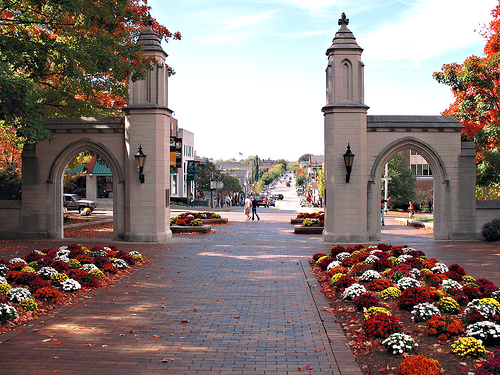 Let me tell you about my morning. I got up late. I put on clothes I wore out to a bar Friday night. I took a cab to work. I wrote some blogs posts for the day job. Typical Monday.
And then, sometime in the late morning, I was on Ballhype, and saw this post on Josh Q. Public. And I laughed. Let's just say that Josh — IF THAT'S EVEN HIS REAL NAME — might be wise to know at least a little something — this is all I ask, just a little something — about the situation he's writing about before he goes and posts it on a popular, Digg-esque, sports blog site by himself and has other people "hype it" for him, and before he e-mails it to Deadspin. (We'll get there later.)
First:
Since Knight's firing, Kelvin Sampson led the Hoosiers to a 21-11 record overall and a 34th appearance in the NCAA tournament only to be forced to resign due his role in the controversial recruitment of star player Eric Gordon.
Ah yes, this is why Sampson resigned, remember guys? Eric Gordon's decision to come to Indiana. Nothing to do with that phone call stuff. Zip. Zero. Nada.
Second:
How does this happen? How does one of the most esteemed basketball programs in the nation fall so far?
Dude, it happened because due to the Kelvin Sampson fallout, only 30 total points scored — 30! — returned from last season. That was 1.2 percent of IU's total scoring output from last season. Some dudes left, others went pro, others got kicked off.
IU has two returning players — one a fringe scholarship player, another a walk-on that never plays– and Tom Crean plays a ton of freshman this year. Have you read anything about IU basketball? Did you study up before you blasted this post across the Internet? Have you watched any games, games where the announcers time and time again harp on this? Do you own a television?
How does Indiana Basketball sink so low?  How low can you go?  How low can you go?
We have apparently entered into a limbo contest.
But enough of that. Josh seems like a nice fellow, one that apparently doesn't know too much about the state of Indiana basketball. A commenter seems to have set him straight under that post. There are far worse crimes. And plus, 75 percent of the time, I don't know what I'm writing about either. We forgive you, Josh.
Let's get to Rick Chandler now.
Rick writes for Deadspin, a sports blog of the highest quality that I enjoy, so it was a little troubling to see him write this incredibly lazy post. We'll start here, as he speaks about the Dumes' situation:
And here we have a clue. There was a time when a previous red-sweatered coach wouldn't have waited until mid-February to iron out the personality wrinkles in his best offensive player. It would have been no later than Nov. 1 that Mr. Dumes would have either been a.) Walking back to campus from somewhere in Iowa; b.) "grip tightening around neck *choke!* … can't breathe …" or c.) playing for Ohio State.
First off, there were no known issues with Dumes before the elbows; he was suspended for his actions in the Michigan State game. And wait, what? Crean was supposed to suspend Dumes before that, somehow? Because Bob Knight would have done that?
Crean has handled this situation terrifically; he suspended Dumes proactively, and had the kid face the media about it. He's setting a standard for integrity. Bob Knight would be proud.
For those waiting for a resurgence in Indiana basketball: It ain't going to happen anytime soon. The system's not designed for sleepy backwaters like Bloomington, Indiana, to have powerhouse teams in the revenue sports unless there's a great coach to draw them in, or a coach who's willing to play fast and loose with recruiting rules. Indiana had the latter with Kelvin Sampson, and they're still looking for the former. Tom Crean — even though he hasn't really had a chance to prove what he can do with his own players — isn't the answer. Have you been to Bloomington? What multi-talented player is going to go there to play for Tom Crean?
First off, Bloomington was just ranked one the best college towns in the nation by quality of life, according to Forbes. I have indeed been to Bloomington, and it's pretty much my favorite place on Earth. Rick should visit sometime. Once the weather turns in the spring, it's quite lovely.
I'm not sure what qualifies as sleepy backwaters to Chandler, but perhaps someone should tell him how well a team like DePaul (in Chicago) compared to a team like Kansas (in Lawrence) is doing this season and get back to him about the whole "system thing."
And really, you're going to call out Tom Crean for not being the guy WHEN HE DOESN'T EVEN HAVE A SEASON UNDER HIS BELT? How can he not be the answer if he hasn't even gotten the full question yet?
Tom Crean is a guy that took a Marquette program from mediocrity to national fame. A guy that had three NBA players during his tenure there and a Final Four appearance. A guy that recruited with the best of them, to Milwaukee of all places. A guy that's coached his pants off this season. A guy that has Big Ten roots under Tom Izzo. There's a reason Marquette is damn good this year: Tom Crean. Even if you're not an IU fan, you recognize this. This down year was expected to happen. Crean will right the ship in the coming years. To answer Josh's question, you can't get any lower than this.
Oh, and those multi-talented players that apparently don't want to come to IU? Apparently Rick hasn't heard of Christian Watford, Maurice Creek, Derek Elston, Jordan Hulls, Bobby Capobianco or Bawa Muniru who mark the No. 8 recruting class in the nation for 2009, according to Rivals. And these are guys Crean got in his first real year of recruting.
Huff puff puff, enough of this. If anyone from the sleepy backwoods where Tom Crean isn't the answer and no recruit could possibly want to go wants to chime in, feel free.
Eamonn wrote about this on the Dagger, too And it's better than what I just slapped together. Go read it.