Good news: Statistically, Indiana only sort of bad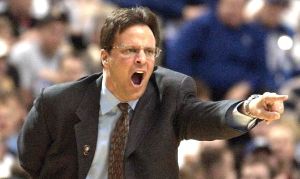 So it's been a pretty horrendous season. We can all agree on that, right? The Devan Dumes suspension is only the most recent metaphorical nut-punch this season has delivered upon fans of Indiana basketball. It's also been, at times, very difficult to watch this team play basketball. They're not difficult to root for — they're very clearly playing hard and doing things the right way — but they are hard to watch. It's just not particularly good basketball.
That said, there has been some noticeable improvement lately. Everything just looks more … solid. Fewer turnovers, fewer horrible defensive possessions, all of that. The crazy, they-can't-be-this-bad stuff the Hoosiers were doing in the beginning of the season is slowly but surely whittling away.
That improvement is showing up in the tempo-free numbers, too. B-Pro's Jon Gasaway did his weekly number crunch Friday and found that Indiana's efficiency margin is only barely worse than Iowa's. In other words, the Hoosiers are bad, but they're historically, mind-bendingly so. His words:
I understand if you haven't been paying attention, but Indiana is suddenly within honest-to-goodness striking distance of not being the worst team in the Big Ten. Remember this: Tom Crean can coach. This season has been like some brutal twisted just-for-coaches version of Cast Away, where Crean had to paint a face on a volleyball in his own blood just to get a team on the floor. He could have just "coached" in pantomime this year, focused his energies on recruiting and, really, who would have been able to tell the difference? Instead Crean has channeled his inner Norman Dale and worked a mini-wonder. Over their past three games these allegedly scrappy and overmatched Hoosiers have actually morphed into a pretty reasonable facsimile of Michigan State, scoring 1.13 points per trip. (Yes, the defense is still woeful. Work with me.) Just think what Crean might do when he adds some fresh talent. You've been warned, Big Ten.
In other words, yes, bad season, bad team, blah blah, but this is a squad that fights and learns and has been getting better in pretty much every facet of the game. That's encouraging. Now, if we can just keep Devan Dumes' elbows down, we'll really be talking.
Filed to: