A first look: 2010 recruiting class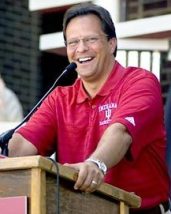 In case you haven't noticed in the sidebar on the right side of this very page, Indiana has yet to secure a verbal commitment for its 2010 recruiting class. There are two factors playing into this:
1. Tom Crean admitted that the coaching staff has ground to make up in 2010. By the time Crean arrived in Bloomington, many of the top prospects for 2010 were already starting to build solid relationships with other coaching staffs. And the recruiting sanctions placed on Crean over the summer only hampered his ability to get out and build his own relationships.
2. The availability of scholarships for 2010 (or lack thereof) has forced Crean to be more selective on who to target for this class. It's a good bet that only two scholarships (or possibly only one) will be there for the taking.
So who is IU looking at in this class?
Kyrie Irving, a 6-2 guard from St. Patrick's High School in New Jersey, sits atop of the wish list. Irving visited Bloomington in November for the season opener against Northwestern State and is among the top 30 players nationally in 2010. He's an explosive scorer who can play both guard positions. Due to transfer rules, Irving won't be eligible to play his first game for St. Patrick's until January, but he's lining up a long list of schools that also includes Memphis, Rutgers, Villanova, Florida, Kansas, Kansas State and Texas A & M.
Behind Irving, the two names most frequently mentioned are 6-9 Savannah (GA) forward Brandon Mobley and 6-3 Louisville (KY) guard Aaron Cosby.
Mobley has not yet visited Bloomington, but told Justin Young, formerly of Rivals.com, that the Hoosiers have offered a scholarship. I'm not convinced that Indiana is hard after Mobley, but he seems like an intriguing guy due to his size and length.
Cosby made a couple of visits to IU earlier in the fall and speculation was rampant that a commitment could be on the horizon. It now appears that Cosby is prepared to let his recruitment play out and visited Minnesota in early November. Due to his transfer from Manual to Jeffersontown, Cosby won't be eligible to play until this Friday. He has an offer from Indiana and I would expect the staff to watch his progress closely.
Beyond these three players, Indiana is keeping an eye on guys like forward Alex Gauna from Eaton Rapids (MI) and forward Donnie Hale from New Albany (IN), but I wouldn't expect either guy to end up a Hoosier. In the end, expect IU to be very conservative in dishing out offers for this class. With the scholarship situation limited, Crean can ill-afford to take any chances.
Filed to: Aaron Cosby, Brandon Mobley, Kyrie Irving, Tom Crean