In the clear: NCAA accepts IU's self-imposed penalties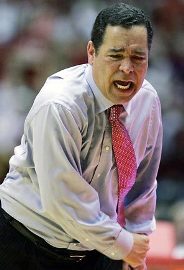 Take a deep breath. And then take a sigh of relief.
After a lengthy investigation, the NCAA Infractions Committee has decided that Indiana's self-imposed sanctions are sufficient and that no further penalties to the men's basketball program are warranted.
IU will have a probationary period of three years in which it will need to maintain a clean slate in order to avoid further sanctions.
The story was first reported by Terry Hutchens of The Indianapolis Star and Doug Wilson of the H-T/Hoosier Scoop.
The self-imposed sanctions, announced in October 2007 by Rick Greenspan and Grace Calhoun, included the following:
A second year of restrictions on recruiting calls tighter than is permitted by the NCAA.
Reduced Kelvin Sampson's off-campus recruiting opportunities and took away a basketball scholarship for 2008-09. The off-campus recruiting penalties were extended to Tom Crean after he took the job in April, but IU opted to allow Crean 10 days to recruit off-campus.
The basketball staff also had one less coach available for recruiting during the 2007-08 recruiting year.
Sampson also voluntarily agreed to forego a $500,000 compensation increase for the 2007-2008 season.
Sampson and former assistant coach Rob Senderoff were not as fortunate. Sampson received a five-year show cause order and Senderoff a three-year show cause order.
Under a show cause penalty, a school must show cause for hiring a coach to avoid being sanctioned. Since Senderoff is currently an assistant at Kent State, it's unclear what his future will be as a member of their coaching staff after this ruling.
Filed to: Grace Calhoun, Kelvin Sampson, NCAA Sanctions, Rick Greenspan, Rob Senderoff, Tom Crean