IU issues release with further details on sanctions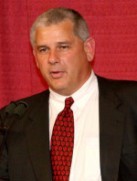 (Editor's Note: The complete report in PDF format can be accessed here.)
From IU Media Relations:
BLOOMINGTON, Ind. — The Indiana University Department of Athletics today announced its release of all documents relating to its discovery and subsequent investigation, and self-disclosure of recruiting violations and issues with the sanctions involving the men's basketball coaching staff.

"When reviewed as a group, these reports provide a very clear picture of what took place in this matter. Accordingly, we have chosen to impose very significant self-imposed sanctions that we are operating under currently and have recommended to the NCAA," said Director of Athletics Rick Greenspan.
The documents include an October 3 independent investigative report that was submitted to the NCAA Committee on Infractions focusing on 111 telephone recruiting calls last season that were found to exceed limits on the number of times a prospective athlete could be contacted under NCAA sanctions (109 of the calls) or NCAA rules (32 of the calls, 30 of which also were contrary to the sanctions).

A second document is the self-report to the NCAA enforcement staff regarding the phone calls that violated NCAA rules. That report concluded that out of these 32 phone calls it is likely only 13 actual conversations occurred. Also among the documents are two other reports detailing the circumstances of impermissible personal contacts with recruits or their families not related to telephone calls.All the violations are being reported to the NCAA as secondary infractions. Greenspan said he believes the independent investigation, conducted by attorneys from Ice Miller's Collegiate Sports Practice in Indianapolis, was very thorough and brought all compliance problems to light.

"Through extensive and lengthy discussions with our legal counsel, it was concluded that these violations are of a secondary nature because they represented isolated instances. They provided little, if any, recruiting advantage and did not involve any extra benefits," Greenspan said.

"However, Indiana University expects and demands full and complete compliance with all NCAA rules and will continue to do so. I will continue to send a very strong message to our coaches, student-athletes and supporters that our standard is and will always be complete compliance."

As penalties, Greenspan has imposed a second year of restrictions on recruiting calls tighter than is permitted by the NCAA, reduced Sampson's off-campus recruiting opportunities and taken away a basketball scholarship for 2008-09. The basketball staff will also have one less coach available for recruiting during the 2007-08 recruiting year. Sampson also voluntarily agreed to forego a $500,000 compensation increase this year.

Greenspan said the limitations on recruiting were extended for another season to ensure that the full effect of last season's NCAA sanctions on recruiting is realized.

The Ice Miller report found that of several thousand recruiting calls made from May 2006 to May 2007 by the assistant coaches, a total of 111 exceeded sanction or NCAA limits. Of those, 101 were made by assistant coach Rob Senderoff, in addition to 9 other three-way calls in which he connected a prospective athlete with head Coach Kelvin Sampson.

Although permissible under NCAA rules, three-way recruiting calls involving Sampson were in violation of the stricter, NCAA-imposed sanctions which were in effect on the IU staff last year from May, 2006 to May, 2007.

Greenspan said the Ice Miller report did not conclude that Sampson acted deliberately to violate the sanctions he was operating under last season.

In its conclusion, the report states that investigators "considered the fact that with so few impermissible calls involving Sampson out of the thousands of recruiting calls made from May 2006 through May 2007, this could not have been a purposeful plan to circumvent the sanction."

The investigation found that most of the impermissible calls occurred because Senderoff failed to log calls made from his home telephone, thus making it impossible for compliance staff to accurately track the number of times each prospective athlete was contacted by telephone. Most of Senderoff's calls were made from his cell or office phone and were properly logged.

Because of the inaccurate records, some prospective athletes and their families were called by assistant coaches more often than permitted under the sanctions or NCAA rules.

Two violations unrelated to telephone conversations were also reported to the NCAA:

On May 12, Senderoff arranged a 15 to 30-minute meeting at Assembly Hall between former IU President Adam W. Herbert and the mother of a prospective student athlete. The mother had come to Bloomington to watch her son participate in an AAU basketball tournament at Assembly Hall. NCAA rules prohibit schools from making recruiting contacts with tournament participants or their families until after the tournament is over. To determine whether a violation had occurred, the university had to confer with the Big Ten conference, which in turn had to request assistance from the NCAA to clarify the complex rules in this area.

On June 30, assistant coach Jeff Meyer arranged for Sampson to meet with a prospect who was in Bloomington to participate in a Sampson-sponsored tournament. Because NCAA rules prohibited Sampson from making recruiting contacts with tournament participants, the prospect's coach was told he would have to withdraw from subsequent participation if he met with Sampson. The meeting took place, but the prospect returned to the tournament the next day unbeknownst to Meyer or Sampson.

Both of these infractions were reported as secondary violations because they provided no recruiting advantage and did not include any inducement or extra benefit.
Filed to: Ice Miller, Jeff Meyer, Kelvin Sampson, NCAA allegations, Rick Greenspan, Rob Senderoff