Is Bawa Muniru the final piece to the 2009 puzzle?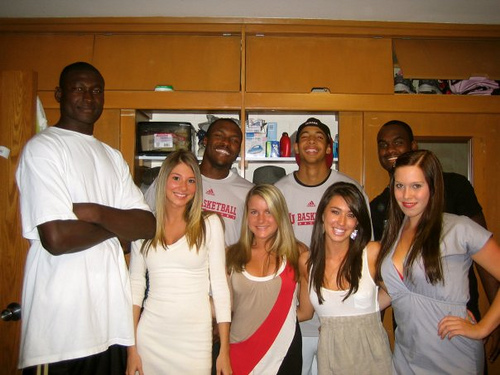 So, I think if there's anything we've asked for, it's a legit big man in the 2009 class. Or any class, really. (Perhaps it's just me that's asking for that. But outside of D.J., we've struggled up front in recent years.)
Well, with 6-11 center Bawa Muniru (far left) on campus this weekend for a visit (a visit it appears he had fun on from the looks of this picture sent via a tipster), perhaps we've found our man — though he does have the "project" tag labeled on him. He's only been playing ball a few years, but is ranked in the Rivals Top 150. And then there's this little nugget:
He played last season in Alabama, but enrolled this fall in Charis Prep in North Carolina. Charis is not certified by the NCAA, but if his academics are in order for the previous three years, he could do enough work on his own to be eligible in 2009 or he could spend a year in prep school.
A bit curious, but hopefully his grades are in order if he agrees to come play for IU.
And really from this picture, how can you not like this dude already?
Filed to: Bawa Muniru