A year later: Harrison Barnes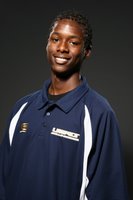 About a year ago today, I was at the Kentucky Hoop Fest in Louisville watching a bunch of different players including Derek Elston, Ray McCallum Jr. and Stephan Van Treese. In between games, I walked over to a court with a friend and we watched about half of a game involving a team from Iowa.
There was one particular kid who caught my eye. He was long, athletic and surprisingly polished for a 15-year old. He was making it look easy. After watching him completely dominate for about five straight minutes, I finally walked over to one of the parents to ask who he was.
"That's Harrison Barnes," the parent told me. "Iowa State is all over him." The parent went on to explain to me that Barnes was from Ames and his Mom worked at Iowa State and his Dad once played for the Cyclones.
I continued to watch Barnes for a while longer and when I got home that night, I looked at the recruiting rankings for one service that had already evaluated the 2010 class. Barnes was No. 115. So much for the legitimacy of those rankings. If there were 114 better 15-year olds better than Barnes, I wanted to see them.
Fast forward to a year later and Barnes is one of the hottest names on the national recruiting scene. He's in the top 10 nationally with both Scout.com and Rivals.com. USC, Kentucky, Kansas, Florida, Indiana, Iowa State, Iowa, TCU, Duke, Maryland, Texas and Tennessee are among the long list of schools in pursuit. Indiana fans should be thrilled that the Hoosiers are in on this kid. Not only is he an outstanding player, he's also a great kid.
Barnes is at the Hoop Fest again this year and Indiana assistant coach Tim Buckley will certainly be there watching him. As will Inside the Hall all day on Friday. We'll get our first look at Bobby Capobianco, Jordan Hulls and another look at Barnes.
Filed to: Harrison Barnes, Kentucky Hoop Fest