Roger Franklin still high on the Hoosiers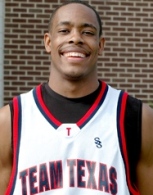 Jerry Meyer, the national recruiting analyst for Rivals.com, had an update this afternoon from the LeBron James Skills Academy and one of his tidbits should be of interest to Hoosier fans.
Roger Franklin, a 2009 forward who's playing this summer with Team Texas, is still high on IU despite the recent troubles with the NCAA:
"Indiana is a basketball powerhouse and right now I'm still high on them. They have a great coach in Tom Crean. And I know they have lost a lot of players, but that means there is a great opportunity to play and that's why they are still on my list."
Franklin is one of the most logical candidates to fill out the 2009 class and he's exactly the type of player that IU needs. One scout told me that Franklin plays so hard that other kids often get angry at him and a couple of players told the same scout they don't like playing against Franklin for that very reason. He's 6-6, 217 lbs and can finish inside, but also has a developing outside game. He's definitely a player to keep an eye on as the summer AAU tournaments move along.
(Photo Credit: Rivals.com)
Filed to: Roger Franklin