Earl Calloway making a name in summer league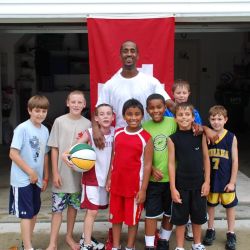 The NBA's summer league is what it is — a bunch of first-and-second-year players desperately clawing for the last few spots on their team. Often, the effort is fruitless, and those players are sent back to the NBDL or to Europe to make that strong Euro currency. The dollar's weak anyway. Who needs it?
So it is with a requisite grain of salt that we take former Hoosier Earl Calloway's success this offseason. Still, Calloway scored 16 points in his first summer league game on an efficient 5-6 from the field. He was matched up against No. 4 overall pick Russell Westbrook for much of the game.
Pacers coach Jim O'Brien has said he thinks Calloway is an NBA-ready point guard. If Earl's worked on his shooting and his turnover rate in his time in the NBDL, there's no reason he can't fill a back-end roster spot on a team like the Pacers. Whether the Pacers actually need another point guard is a different question, but it sure would be nice to see Calloway — a class act by all accounts — play his way onto a roster somewhere.
Filed to: Earl Calloway, Indiana Pacers