Kelvin Sampson will go on-and-on about Eric Gordon, but not his phone habits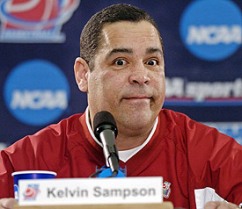 Kelvin Sampson, who recently went out the back door of Hotel Deca between two dumpsters to avoid the media at the NCAA hearings, has apparently taken on the role of public relations manager for Eric Gordon. Rather than giving us the explanation we all deserve about his repeated acts of stupidity while in Bloomington, out the back door Kelvin talked to Darnell Mayberry of The Oklahoman about EJ and his future in the league.
The willingness of Sampson to speak to Mayberry was likely contingent on an agreement that the NCAA mess would not be discussed. (He might not ever talk, but please, pester him until he finally caves.) Anyway, here is Kelvin pronouncing his man love for Gordon:
"I don't see how this kid could miss. He's good. He's really, really, really good, and he has a chance to be great."

"The thing he can do is score, and his size is not going to be a factor (in the NBA). He is a shade under 6-foot-4, but he weighs right at 215 pounds, maybe a little more. He's a great athlete. He has great explosion off the dribble and has great range."

"If you saw him in college this year, he got double-teamed and he was the focus of everybody's scouting report but still succeeded. He's the real deal. There's not any question in my mind about this kid."

"Eric is going to be a prolific scorer at some point. I think the maturation process for him has a lot to do with how good the team is that drafts him. If he goes to a team that's building and is probably a couple years away from making the playoffs, that probably can speed his maturation up some, kind of like Kevin Durant."

"You have to understand that Eric turned 19 last year. So he's still a kid that's a freshman in college. He'll have some growing pains. But the thing he has is unbelievable ability. He's one of those kids that are going to get better every year, too."
That's actually a pretty good scouting report. Too bad it didn't cover how to answer your phone without looking at caller-id or the art of three-way calling. You should really talk to us about those two things, Kelvin. You are the expert.
{HT: Cannot Falter}
Filed to: Eric Gordon, Kelvin Sampson