Ellis, Thomas and Holman plan to return to IU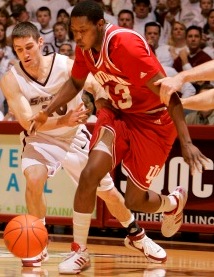 According to a report by Terry Hutchens of the Indianapolis Star, Jamarcus Ellis, DeAndre Thomas and Eli Holman are all planning to return to Bloomington next season. However, Brandon McGee, Jordan Crawford and Armon Bassett have yet to decide, according to Hutch:
Indiana's players were all over the board when asked about their future at IU. All of them said they want to wait until a new coach is named and they could meet with that coach.

Two in particular — junior college transfers Jamarcus Ellis and DeAndre Thomas — indicated they plan to be back next season. Freshman center Eli Holman also thought he would be back. But Armon Bassett, Jordan Crawford and Brandon McGee all said they needed time to sort everything out before deciding.

Ellis said he didn't feel comfortable talking about what anyone else on his team would do.

"I can only speak for myself, and I'm just looking forward to getting to know the new coach, whoever that may be, and getting in the gym and working hard, because I have a lot of things I can do better in my game," Ellis said.

Crawford said he plans to see what comes about with a new coach.
That was about the best quote Jamarcus could have given. If he has that attitude going into next season and buys into the new coach, expect him to return to the stat-stuffing player we all loved early on. As far as the other players go, if Indiana makes the right hire, I think everyone will be back. In my view, Bassett is the most important piece to keep in Bloomington. He is on track to develop into an All-Big Ten player and he's a big piece of the puzzle if IU hopes to field a team capable of making the NCAA Tournament next season (assuming the NCAA doesn't drop the hammer in June).
Filed to: Armon Bassett, Brandon McGee, DeAndre Thomas, Eli Holman, Jamarcus Ellis, Jordan Crawford