Keys to the game: Arkansas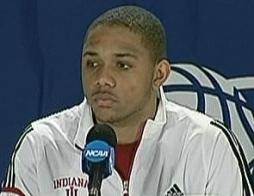 Strong out of the gate: In each of IU's last three losses, they've trailed at halftime and in two of the games (Michigan State and Minnesota), they've trailed big early. Playing from behind is not advisable for anybody in the NCAA Tournament. And for a team that has struggled as badly of late as this one, another slow start could be a recipe for catastrophe.
Establish D.J. White: With IU's recent struggles from the perimeter, it's essential to establish White in order to free up some open looks for Armon Bassett, Eric Gordon and Jordan Crawford. Bassett and Gordon are shooting a combined 18.3 percent from three-point range on their last 53 attempts. As Terry Hutchens pointed out in today's Indianapolis Star, White took just three shots in the first 12 minutes against Minnesota and in the Penn State game, he took just two shots in the first ten minutes. That's not acceptable for a player shooting over 60 percent from the field.
Big game for Gordon: It's been a while since the freshman had a solid shooting night. In fact, the last time he shot better than 50 percent from the field was on February 16 against Michigan State. In other words, he's more than overdue for a hot shooting night. Gordon knows this is likely his only chance to make a run in the NCAA Tournament. It'll be important to get him a couple of open looks early to establish his confidence. If the Hoosiers can get him going, the combination of White and Gordon is as good as any in the country.
Hold them below 75: Arkansas likes to play at a faster tempo than the Hoosiers have experienced in the Big Ten. When the Razorbacks score 75 points or more, they're 15-0. It is important to note that Indiana is a higher scoring team than Arkansas. Indiana is averaging 75.1 points per game and Arkansas is scoring 73.6 ppg.
Production from the four spot: Paging Lance Stemler, Kyle Taber and DeAndre Thomas. Thomas played well in the Big Ten Tournament against Minnesota, but he committed five fouls (all in the second half) and left the game with 7:43 remaining. Stemler's offense has been non-existent for most of the season. And Taber has been solid in spot duty. In other words, there's not a clear cut option. IU doesn't need any of the three to score much, but they do need someone to help White fend off Arkansas in the paint. The Razorbacks have four players 6-10 or taller.
Play for Indiana, not Kelvin Sampson: Anyone who's watched this team since Sampson left the sidelines knows that something has been missing. Sometimes, it just looks like this group is going through the motions. But if we're to believe White's comments at Thursday's press conference, the Hoosiers are approaching this opportunity as a new beginning. With that said, it's time to forget the past and move forward. This team is talented enough to make some noise, but they'll need to be on the same page as their coach if they hope to do damage.
Site news: Registration now required to post comments. Click here for details.
Filed to: Arkansas Razorbacks, Armon Bassett, D.J. White, DeAndre Thomas, Eric Gordon, Kyle Taber, Lance Stemler, NCAA Tournament