Just say no to Kevin Stallings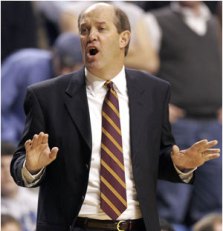 The news that Harry Gonzo, not Rick Greenspan, will be leading the head coaching search was welcome to those of us in the "whatever you do, don't hire Kevin Stallings camp." It's not that I'm dead set on having an "Indiana guy," but I'm dead set on not having a Purdue guy. (In fact, I think the "we need to have an Indiana guy" stuff is ridiculous. There's not a candidate that makes sense, folks.)
Greenspan's connection to Stallings dates back to 1994 when the Athletic Director gave the current Vanderbilt coach his first head coaching gig at Illinois State. It's also been reported that Greenspan has consulted Stallings for advice on numerous occasions. So let me make this perfectly clear: Indiana should want no part of Kevin Stallings as its next head coach. The further Greenspan is away from the decision making chair in this hire, the better.
It's not that Stallings is a bad coach — he's been to two of the last four Sweet Sixteen's at a traditionally mediocre program — but shouldn't Indiana be aiming higher than this? Do we really want to bring in a guy who attended and coached at our most bitter rival to bring the program back to the glory it once enjoyed? Absolutely not. Does Stallings give you that feeling of a home run hire that will create the much needed buzz we so desperately crave? Not even close. In fact, he might even possess less charisma than Kelvin Sampson, if that's even possible.
So before you go any farther with your Kevin Stallings man crush, stop right there, search committee. The last thing we need at Indiana University is someone from Purdue trying to clean up this mess.
Reminder: Don't forget to join the Inside the Hall NCAA Tournament Pick 'Em Challenge by clicking here.
Filed to: Kevin Stallings, Rick Greenspan