Harry Gonso pegged to lead coaching search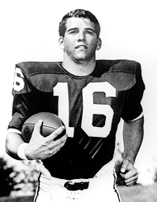 According to a press release from IU, Harry Gonso is the choice to lead the search for a new head coach to lead the basketball program. (Sorry Coach Dakich, it was nice knowing you.) Here is an except for that release:
BLOOMINGTON, Ind. — Indiana University President Michael A. McRobbie announced today that he has appointed a 10-member, blue-ribbon committee of faculty, alumni and Athletic Department representatives to begin a nationwide search for a new men's basketball coach. The panel will be chaired by Harry Gonso, an Indianapolis attorney and former IU trustee who led the Hoosiers as quarterback of the 1968 Rose Bowl team. An Academic All American and All Big-Ten football player, Gonso earned a bachelor of science degree in accounting from IU in 1970 and a law degree with honors from the IU School of Law-Bloomington in 1973.

Gonso indicated that the search committee and its members would not be publicly commenting on the progress of the search process until a decision is announced.

Also named to the committee were: Rick Greenspan, athletics director; Ken Beckley, former president of the IU Alumni Association; Grace Calhoun, associate athletics director for compliance and academic services and senior woman administrator; Bruce Jaffee, professor of business economics and public policy and faculty representative on the Athletics Committee; Wayne Radford, former IU basketball player and most valuable player of the 1978 Hoosiers; Jennifer Sinclair, president and chairwoman of the IU Varsity Club National Board of Directors; Bill Stephan, IU vice president for engagement; James Wimbush, dean of the University Graduate School, professor of business administration and chair of the University Athletics Committee; Jerry Yeagley, former IU head men's soccer coach and member of the U.S. Soccer Federation Hall of Fame
A couple of quick observations here: I really know nothing about Gonso, so I'm not at liberty to say if he's the man to lead the search. Surely he can't be any worse than our man Rick Greenspan, right? Second, the early buzz on the street is that two of everybody's favorite candidates, Sean Miller of Xavier and Tony Bennett of Washington State, might not be as interested in IU as many had anticipated. With that said, I find it hard to believe that either man would turn down the job if it was offered and the money was right. Third, the quote in the press release towards the end by Gonso seems to fall in line with the sentiment that IU will move to hire a coach before the Final Four assuming the targeted candidate's team is eliminated from post season play.
Reminder: Don't forget to join the Inside the Hall NCAA Tournament Pick 'Em Challenge by clicking here.
Filed to: Harry Gonso, Rick Greenspan