Ebanks will get release from Letter of Intent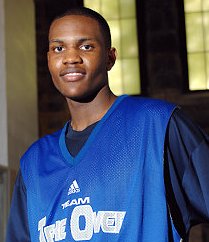 Devin Ebanks attended the Big Ten Tournament last weekend, met with school officials and asked to be released from the Letter of Intent he signed back in November. According to his high school coach, Indiana has obliged with his request. Adam Zagoria has the details on the Zagsblog:
"He's spoke to the people at Indiana and they're apparently going to be sending him his release," St. Thomas More coach Jere Quinn said Tuesday.

"Right now he's talking about Memphis, Texas and Rutgers," Quinn said. "He may add a fourth. A bunch of people are trying to get it, but who knows?"

Since both Memphis and Texas are competing in the NCAA Tournament, Ebanks likely couldn't visit either school until after the Big Dance.
You can expect to see Ebanks suiting up for John Calipari and Memphis next season. For those of you hoping that Ebanks would wait to see who IU hires before seeking his release, it doesn't look like that's going to happen. So long Mr. Ebanks, we hardly knew ya.
Reminder: Don't forget to join the Inside the Hall NCAA Tournament Pick 'Em Challenge by clicking here.
Filed to: Devin Ebanks